on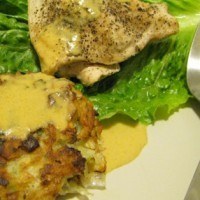 I woke up, the sky was blue, and my stomach growled. Already thinking about breakfast, I jumped out of bed when I remembered my leftover potato pancakes and sweet yogurt curry sauce….
From burger toppings to potato pancakes, I think sweet yogurt curry makes for an excellent addition to foods that fall outside of South Asian cuisine. Don't get me wrong–the traditional curry, or tamil, you find in dishes such as chicken curry, saag, and korma are the reason I go nuts over Indian lunch buffet. All I'm saying is that you shouldn't limit its use in your cooking.
This sweet curry yogurt sauce worked perfect as a sauce over potato pancakes and baked chicken breast. It's simplicity should not be mistaken for simple flavor. This little sauce knocked my socks off.
Recipe for Curry Sauce
*1 c. plain yogurt
*1 tbsp. curry powder
*1 tbsp. honey (you can also use sugar or agave nectar)
*1 tsp. lime juice
Easy enough, right? I did not use curry powder. At our house we've been playing with the curry seasoning cubes by Golden Curry. I put a few tablespoons of water into a saucepan over medium heat and then stirred with a wooden spoon until the cube dissolved. I let it let simmer for a minute. I then combined the curry seasoning with the other ingredients and blended with my hand blender. I'm not exaggerating when I say it took about five seconds to reach the perfect saucy consistency.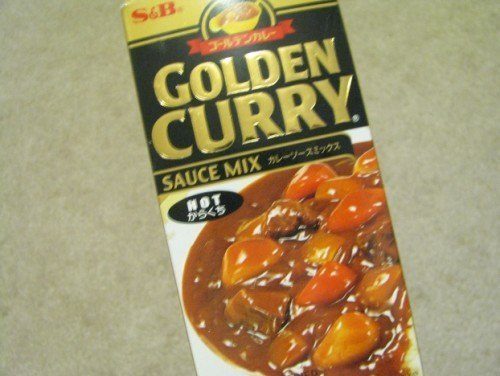 The curry sauce went to the fridge while I made the chicken breasts and potato pancakes. I'll spare you the recipe for the chicken since all I do is bake in foil with pepper and olive oil. The potato pancakes on the other hand…that's a recipe I'd like to share.
Recipe for Potato Pancakes
*1 egg
*4 tbsp. flour
*2 potatoes, peeled, shredded, rinsed, and drained
*1/2 medium onion, chopped
*1/4 c. mushrooms, chopped
*1 large jalapeño, de-seeded and chopped
*1/2 tsp. each salt and pepper
*3-4 tbsp. of olive oil
Directions: Prepare all your veggies before whisking the egg and flour together. Once you have a creamy-looking texture add the remaining ingredients and mix well. Heat one tablespoon of olive oil in a skillet while you form the potato pancakes. Fry three at a time and cook each side until golden brown. Add remaining oil as needed.
Download the Saucy Dipper potato pancake and sweet yogurt curry sauce recipes.
I wasn't kidding when I said curry sauce belongs on burgers. It works as a great French fry dipping sauce, too.
What do you eat with curry sauce?