Posted by
Sep 28, 2010
in
Dip Recipes
|
12 comments
on
Tomorrow my husband and I return to Denver after an extended stay in New York. While I'm sad to leave, I'm also looking forward to having a larger kitchen and windows! The Saucy Dipper is about to get better…
We were lucky to have one last set of visitors here in NYC this past weekend, but unfortunately we had a hiccup in our touristy plans — torrential rains. Walking down New York City streets through wind and rain just might be one of the worst ways to spend a morning.
A drizzle I can handle. Even a short lived down pour is okay. But a few other things I can't handle. Namely
Sideways rain
Cars that drive by and splash nasty NYC puddles onto my clothes and face
Soaking wet shoes
After traipsing all over the Upper West Side, my friend Nina and I tired of our sopping wet feet and tired of seeing other women proudly wear their rain boots. Desperate times called for desparate measures. We impulse shopped.
See how sad I was? This is when I thought Urban Outfitters didn't have my size. But it turns out they did. Hello cute rain boots!
While waiting for the sales person to return, Nina had a fabulous idea. She said, "Let's go home, make dip, and drink cocktails!"
Ahhh. It's nice to know the Saucy Dipper really does have fans. Nina, thanks for being so much fun to hang out with and for chopping the onions! Those suckers really hurt my eyes.
The onion brought a tear to her eyes too. Hence, the glasses.
Not only did the dips brighten up our afternoon, but it also helped me empty out the refrigerator a little more, which is evident by the hodge podge of ingredients here.
Enjoy!
Saucy Dipper Cream Cheese Shrimp Dip Recipe
*1 tbsp. butter
*1/3 medium-sized onion, chopped
*2 tsp. pepper
*2 tsp. salt
*1 c. cream cheese (I used reduced fat cream cheese)
*1 c. cheddar cheese, shredded
*1/4 tsp. Worcestershire sauce
*1/2 lb. cooked shrimp, chopped into thirds
Directions: Melt butter in frying pan. Add onions, pepper, and salt to the pan and cook until the onions are soft.  In separate bowl, blend cheeses and Worcestershire sauce. Add onions and shrimp to bowl and mix. Chill for one hour and serve with French bread.
Download the Saucy Dipper Cream Cheese Shrimp Dip Recipe
Saucy Dipper Jerk Corn Salsa Recipe
*5 large tomatoes, de-seeded and chopped
*1 small can of corn
*2/3 medium-sized onion, chopped
*2 tbsp. jerk seasoning
*1 tbsp. salt
*1 tbsp. chili powder
Directions: Combine all ingredients in mixing bowl and stir. Add more seasoning to taste. Chill for one hour and serve with tortilla chips.
Even after deseeding the tomatoes, your salsa can be quite runny. I removed several spoonfuls of juice before serving.
Download the Saucy Dipper Jerk Corn Salsa Recipe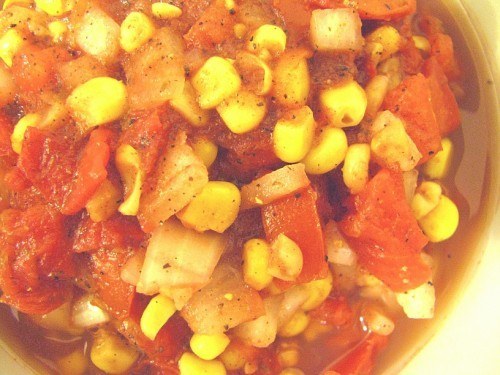 PS – Thanks to my gal pal, Chung, for giving me these home grown tomatoes. Without them, I don't think the salsa would have turned out so well.