Posted by
Oct 26, 2010
in
Dip Recipes, Dipstock
|
6 comments
on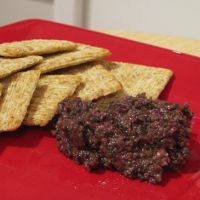 Today, I have a very special guest post from my husband, Jason Lancaster. Jason is a fantastic cook, a Online Marketing guy, a Denver Nuggets fan, AND a fan of Alton Brown. He agreed to help me out with some of the Dipstock dip making this week, and I'm oh-so-grateful. Seven dips is a lot of work for one person! Help me in welcoming Jason to the Saucy Dipper.
****
Tapenade, for those who may not know, is a nice dip for crackers and toasted bread, but it also plays very nicely with pork. Today, I'm going to tell you AND show you how to make some in about 10 minutes.
First, the ingredients:
1/2 pound (8 oz) of pitted olives — I used 1/2 a jar of some Kalamata olive pieces and a (gasp) a little 4oz can of California black olives for this project. They were cheap, and they were the only pitted olives available at my local grocery store that didn't also have some fancy flavorings.
2 tablespoons of capers
2 tablespoons of extra virgin olive oil
2 anchovy filets (rinsing them is a good idea)
2 or 3 fresh basil leaves (I used freeze-dried bits 'cause they were cheaper)
1 minced clove of garlic
1 tablespoon of lemon juice
The instructions:
Just put it all in the food processor and let er' rip for about a minute, stopping once or twice to scrape down the sides of the mixing bowl.
The results:
It was pretty good – Sara and I both enjoyed it on Triscuits and then toast the next afternoon. As the video below clearly indicates, I stole this recipe from Good Eats…and I didn't really measure things. I sort of guessed at all the measurements and things worked out fine, so I say leave the measuring cups in the cupboard and go for it.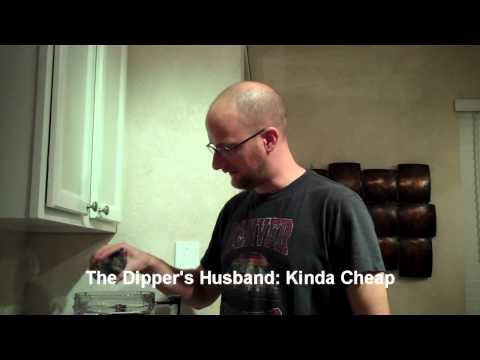 Some thoughts and ideas I have for the next time I make tapenade:
Should have used more capers. Definitely didn't measure out two full tablespoons.
Should have soaked the olives in some water for 20 minutes or so, then rinsed them really nicely. Might have made the finished product a little less salty.
I think you need at least three kinds of olives to get the best taste possible.
It's hard to screw this thing up. Tapenade is going into my tiny little cooking trick bag, right next to my guacamole and my spinach artichoke dip recipes.
Finally, for any men out there reading this and thinking that the word tapenade might sound like something that's a little too "fancy" for you: Tapenade is actually a meaty tasting dip, brosef. Whip some up and impress your lady friend (it worked for me).