on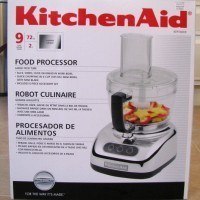 For many sauces and dips, a food processor is an essential kitchen tool. I recently invested in the KitchenAid 9 Cup Food Processor KFP740 and am glad to say that it's increased my sauce-making capabilities greatly. In fact, I wouldn't have been able to go on my recent aji sauce recipe adventure without it.
This post is my review of the product, which I recommend. I know it's an investment at $149.99 , but it works far better than a mini chopper and, from what I've read, far better than a dual blender and processor unit. Given the  warranty, its worth it.
The Hardest Part of Using a Food Processor is Taking it Out of the Box
You think I'm kidding, but the series of steps involved in taking the food processor and its pieces out of the box is impressive. Fortunately, KitchenAid offers step-by-step instructions on how to do so. Seriously, there are ten steps to removing that bad boy.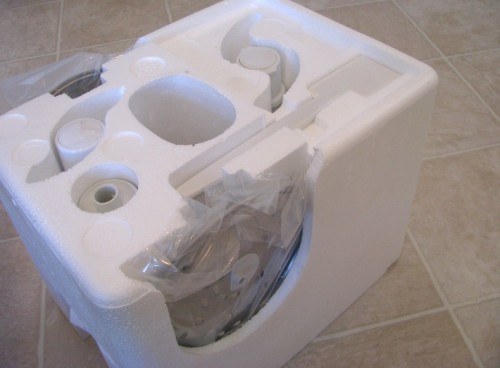 Get Comfortable with the Heavy, Powerful Chopping Machinery
This food processor was much heavier than I expected and much more intimidating to use than I expected, at least at first. Maybe I'm used to using my hand blender; maybe I'm a bit fearful of heavy machinery; maybe the instructions on the third page of the user's manual would scare the living daylights out of anyone.
Or maybe it's all three of the things I mentioned. Whatever the case, upon first placing the processor on the counter alongside all its sharp and fatal looking pieces, I didn't know what to do first. But after some manual reading and a culinary experiment or two, I'm not scared of the food processor anymore. There are several safety features and only a few buttons (off, on, and pulse), which means you really can't get confused on what is what.
Speaking of the user's manual…it's thorough, although not as thorough as I thought it would be on first glance. The first 28 pages are in English, and then it's printed again in French and Spanish. (What up Mexico and Canada? Let's make some sauce!) The manual contains helpful tips and a handful of nice recipes. It's worth the read — Jason (the husband) agrees. Here he is reading about the food processor before making his wildly popular tapenade recipe video.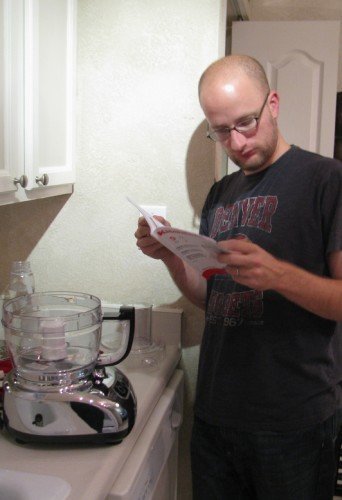 Find Room for Your Food Processor
Next to taking it out of the box, the second trickiest part of using the KitchenAid 9 Cup Food Processor KFP740 has to be storage. I know that most food processors are large, so it's not a slam on KitchenAid. The reality is that it's a large appliance and requires some real estate.
It will not fit in any of our cupboards. While the processor does fit on the counter top, I cherish my counter space and don't want it there. Lucky for me, we have room in the pantry. Given its weight, this is truly the best spot for my chrome KitchenAid. Ain't she a beauty?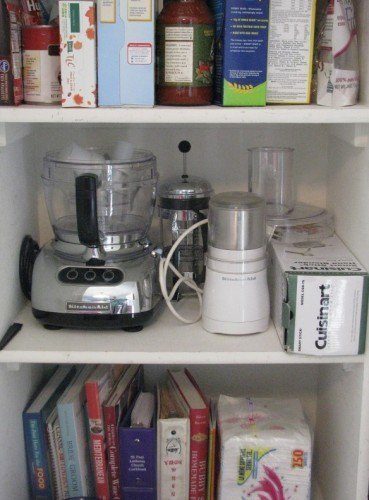 What the KitchenAid 9 Cup Food Processor and its Accessories Can and Cannot Do
A few reviews on Amazon say it's a quiet machine, but don't be fooled. This thing has a powerful motor. It can make noise.
I learned in a recent cooking class that food processors are not meant to puree.  That's what your blender is for. The chef teaching the class explained that the processor was made to replace the mortar and pestle and as a result revolutionized food preparation. This all makes sense to me, but my handy user manual says that the KitchenAid works to chop, mix, slice, shred, blend, emulsify, puree, and knead dough. It made me wonder, what won't a food processor do?
Turns out the food processor won't grind coffee beans, grains, hard spices, or bones. It won't slice warm meats and hard cooked eggs, and it won't liquefy fruits or vegetables. In other words, you're not suppose to try and make a smoothie with your food processor, but you can finely chop or blend fruits and veggies.
The multi-purpose blade uniformly chops herbs and veggies when on pulse. Way prettier than some of the chopping I do with the knife.
The slicing and shredding discs, on the other hand, don't always produce uniform pieces. When slicing celery, I found some pieces were very very thin and of varying lengths. This could easily be operator error, but so far I think the multi-purpose blade (shown below) works best for most all chopping jobs.
I like the plastic spatula/cleaning tool that comes along with the KitchenAid as an accessory, but it doesn't tightly hug the sides the way I'd like. I think a flexible, rubber spatula is a better tool for pushing down food from the sides in between processing cycles and when emptying the bowl.
What I Like Best About the KitchenAid 9 Cup Food Processor KFP740
Aside from allowing me to get more adventurous with my sauce and dip making, the food processor provides many benefits for anyone who spends time in the kitchen. My favorite aspects:
The multi-purpose blade means I don't have to whisk to create my own emulsions! My tired arms say "thank you," KitchenAid.
I have not noticed any leakage from the mini-bowl to the deeper 9-cup work bowl or to the outside of the unit, which means cleanup isn't too bad. I especially like that I can throw the accessories and pieces into the dishwasher. How easy is that?
I can make a delicious hummus and a delicious bean dip…wait 'til you see them.
It's now easier for me to chop onions with the fine slicing disc or shredding disc. I always cry when I chop onions, but not any more!
I'm sure this won't be the last you hear of my food processor work. Tell me what you think of yours and how you use it in your kitchen in the comments.
ps – KitchenAid did not get compensate me to write this post. However, you can purchase the KitchenAid 9 Cup Food Processor by clicking here > KitchenAid 9-Cup Chrome Food Processor #KFP740
or by clicking on the image below. I will receive a commission from any item purchased as a result of clicking. Thanks for shopping and for supporting the Saucy Dipper.