Happy Thanksgiving!
To celebrate the holiday I made my first pie–a banana cream pie with homemade whipped cream and a caramel drizzle. Forget that it took close to four hours to make (when you factor in research, shopping, and cooking/baking); making your own pie comes with rewards. Who knew Thanksgiving could be so much fun?
I was inspired to make the pie, because I signed up to participate in Big Bear's Wife's Holiday Bake Off. Not only do I get a kick out of blog parties, but it's for a great cause. You see, anyone can participate (even non-food bloggers). All you have to do is bake, write about it, and then donate your baked goods to a local shelter.
Once I'm done with you here, I'm off to the Denver Rescue Mission to donate my pie. Don't worry. I made an extra one for us to eat. What? You think I'm going to tease myself with a graham cracker crust?
You'll get to read about the pie next week when it's my turn to post on Big Bear's Wife blog. However, I am going to tell you about one step in last night's culinary adventure: caramel sauce.
To prepare, I read quite a few caramel sauce recipes, including this one from Yummy Supper and this one from Baked Bree. I also watched this video from Harvest Eating. After all the research, I felt good about making my own caramel sauce, but I was also scared. Sugar crystallization? Molten hot sugar water? Frightening.
Recipe for Homemade Caramel Sauce
*1 cup sugar
*1/4 cup water
*1 tsp. corn syrup
*1 cup heavy cream
*1 tsp. vanilla
*Dash of salt
Directions: Pour sugar into sauce pan. Pour water and corn syrup over the top of the sugar and turn up heat to medium high. Do not stir. Let the mixture bubble on its own until it turns a solid amber color. Turn down heat a touch, pour in cream, and whisk, whisk, whisk. Once you have a nice looking caramel sauce, remove the pan  from heat and add your vanilla and salt. The caramel sauce will thicken up once it's cooled. Refrigerate in an air tight jar for up to three months.
Now that you know how you're supposed to make caramel sauce, let me show you how I did it. Even with several mistakes, my homemade caramel sauce turned out great. Don't fear the caramel!
First up, I used our KitchenAid 1 Quart Saucier. This is a true sauce pan with a curved out bottom, which makes it really easy to get in there with your whisk. Except….you're not supposed to whisk the water and sugar mixture in the beginning. Whoops!
A few things happened here. 1) I whisked when I shouldn't have. You'll notice how the crystals have gone up the sides of the pan. If I had left it alone, this probably wouldn't have happened. 2) I originally only added 2 tbsp of water, which wasn't enough. At least I couldn't make it work–clearly. I added more water and that seemed to do the trick.
The experts say that dipping a brush in water and taking it around the sides of the pan will get rid of the crystals from the pan. I tried it. The strategy worked a bit, but not completely. Oh well.
Side note about the corn syrup: Corn syrup is meant to prevent crystallization. Maybe next time I'll reap those benefits.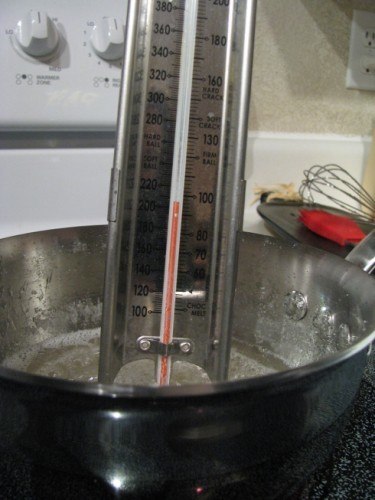 With the mixture bubbling, I had to wait for it to go from white to amber. I read that once the water gets up to 350 degrees Fahrenheit, you're ready to move to the next step. I waited and waited, but the pot hovered at 200 F for a real long time. Over ten minutes, I'm sure.
I spaced out and started thinking about the pie…turkey…my wine. Oh ya, how cute is my wine?
Then I became fascinated by the sugar crystals on the whisk that I was not supposed to use. I picked up the camera, so I could share it with you.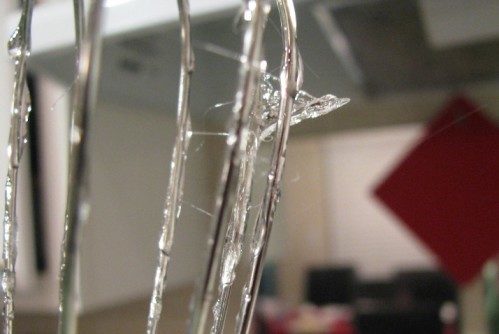 Cool, huh?
I read that you're not supposed to walk away from a bubbling caramel sauce. You're supposed to pay close attention to the sauce, because it can burn very very quickly. Turns out they're not lyin'. While I was marveling at the whisk, some things started to happen.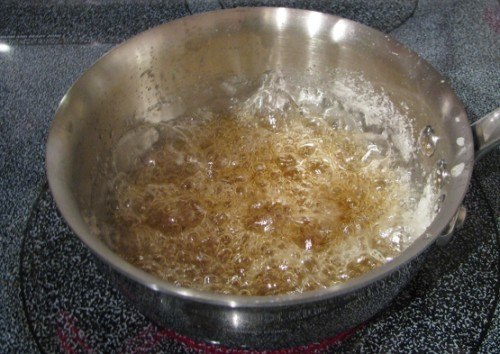 The caramel sauce was ready for some cream. Stat! It definitely smelled like burning.
Even though the sauce began to burn, I somehow managed to save it. I took the pan off the heat once or twice to keep the sauce from boiling over. If you look close, you can see how goopy it was at times. I have no idea if this is normal. I thought for sure I was doomed, but in the end I had one smooth tasting (and looking) caramel sauce.
Stay tuned until next week when I show you how awesome caramel looks drizzled over banana cream pie.