How many holiday parties will you attend this season? Do you know what dish you'll be bringing to each?
If you're tasked with bringing a dip, then you should seriously consider a bean dip. Here's why:
1. Dare to be different.
Artichoke dip is good and all, but enough already! Get creative with bean dip.
2. It's a crowd pleaser.
Most everyone I know will dig into a bean dip (especially a seven-layer bean dip) without hesitation.
3. Say no to dairy
So many of the dip recipes out there use cream cheese, sour cream, or another kind of dairy. Give your lactose-weary friends a break with some high-quality protein.
4. Holiday colors
You can make a layered bean dip using holiday-colored foods. I made a layered dip with guacamole and tomatoes to get that holiday theme. Please, no comments on how horrible of a job I did layering here…you get the point 🙂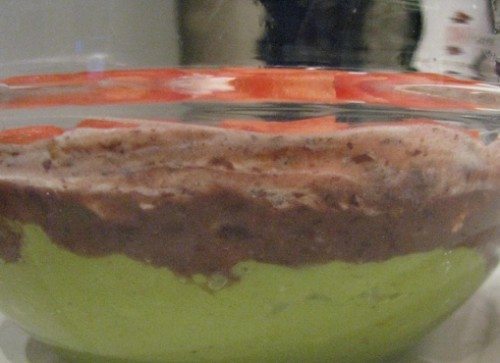 5. Making bean dip is easy
You can make a tasty bean dip in five minutes. This is not an underestimation either. Here's how I do it.
Recipe for Black Bean Dip
*1 can of vegetarian black beans
*1 garlic clove, minced
*5 green onions (whites), chopped
*1 medium-sized jalapeño, de-seeded and chopped
*1 tbsp. cumin
*1 tbsp. salt
*juice of half a lime
Directions: Combine all the ingredients in a large bowl. Use hand blender to get the consistency you like. Serve at room temperature with tortilla chips.