on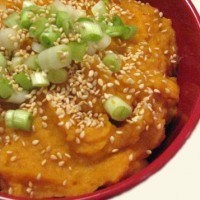 I have a theory that men don't like sweet potatoes. None of the men in my life like them anyway.
I took to Twitter to test my theory and discovered that quite a few men actually do like sweet potatoes, especially the famous Christmastime sweet potato with marshmallows. But I'm still not convinced that the majority of boys will eat one of those deliciously orange veggies.
Last weekend I made a few holiday dips for friends, one of which was a fine sweet potato dip. I tempted my favorite sweet-potato hater (my husband, Jason) with the dip, but he still didn't like it. Can you believe he doesn't even like a savory sweet potato? It's the holidays for Pete's sake!
Help me prove (or disprove my theory) by taking part in my sweet potato poll. If you think the answer "depends," then please do explain in the comments. It's time to get to the bottom of this theory.
Loading ...
For those of you who like sweet potatoes, you need to try this dip recipe for your holiday parties and meals. You and your (lady) guests won't be disappointed.
Recipe for Sweet Potato and Tahini Dip
Inspired by MyRecipes.com
*1 large yam (We call them sweet potatoes in the US. They're not exactly the same thing, but close enough.)
*2 tbsp. tahini
*2 tsp. soy sauce
*2 tsp. fresh ginger
*5 green onions (whites), chopped
*Toasted sesame seeds
Directions: Cut the yam in one inch cubes and boil for 20 minutes. Drain but reserve 1/4 cup of the water. Place water, yams, and the next three ingredients in a food processor. Puree until smooth. Spoon into a serving bowl and top with onions and sesame seeds. Serve warm with Triscuits.