on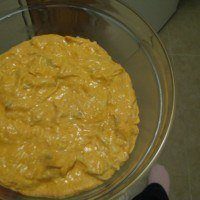 Yes, this photo does reveal my right foot covered in a pink, fuzzy sock.
I took this picture before I had decided to create the Saucy Dipper. Clearly, I wasn't worried about showing off my intimates.
So ashamed.
Alright, I'm completely kidding. I don't care if you see my socks. You'll probably see a lot worse including the 100 ways I'm going to lose my mind learning how to make sauce.
The real spotlight in the photo is the buffalo chicken dip. Ta da!
This recipe came to me from my friend Chrissy. She read about it on the back of a RedHot bottle. Here goes…
Frank's RedHot Buffalo Chicken Dip Recipe:
*8 oz. pkg. cream cheese, softened
*1/2 cup blue cheese or ranch salad dressing
*1/2 cup any flavor FRANK'S® REDHOT® Sauce
*1/2 cup crumbled blue cheese or shredded mozzarella cheese
*2 cans (12.5 oz. each) SWANSON® White Premium Chunk Chicken Breast in Water, drained Roasted chicken straight from the grocery deli

Directions: Heat oven to 350°F or warm a skillet if you prefer stove top cooking. Place cream cheese into deep baking dish or skillet. Stir until smooth. Mix in salad dressing and Frank's RedHot Sauce and cheese. Stir in chicken. Bake 20 min. or until mixture is heated through; stir. Garnish as desired. Serve with crackers or vegetables or Tostitos.
I bought a roasted chicken from my grocery. Something about meat in a can really eeks me out. I shred half the chicken for the dip and used the rest of the chicken for sandwiches. I also deviated from the recipe by cooking this up on the stove. I heated the chicken a bit before adding the other ingredients, too.

Recipe calls for one cup, but I say a little more is fine.
I chose ranch dressing over blue cheese and opted not to add blue cheese crumbles or mozzarella. The extra cheese seemed like overkill.
Starting to look more like dip now!
p.s. Just a reminder that when I list a recipe from another source I'll indicate which parts of the recipe I ignored with strike through and indicate which parts of the recipe I added with turquoise font.
p.p.s. I wonder what this would taste like with bacon? Probably better.