on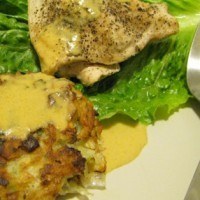 The mother sauces may have made their debut in the early 1800s, but it's going to take more than 200 years for sauce to go out of style. In today's final post in my series of posts on sauce, I talk to the chefs about today's trends in sauce.
Is fusion food in or out? How many sauce ingredients is too many? Are sauces that take 12 hours to make worth it?
You're about to find out.
Keep it simple, saucy
Chef Amy Vitale of TABLES, an adorable Denver restaurant that serves fresh American dishes, said, "I feel we may see many going back to sauces a la minute; bringing things back to the basics."
Others agree, including Chef Matt Selby of Denver's Vesta Dipping Grill, Chef Billy Parisi, a culinary spokesperson for Lowes Foods and Heinen's Grocery Stores as well as the in-house chef and culinary face to Sears Holdings Corporations, and Chef Dennis K. Littley, the chef at Mount Saint Joseph Academy in Flourtown, Pennsylvania, and blogger at More than a Mount Full.
"I enjoy sauces with three to four ingredients," said Chef Littley. "Like the Italian simplistic approach…fish, olive oil, salt and pepper. It's nice to have an adventure, but get creative based on the ingredients you have, not just by adding to embellish."
It's easy to get carried away with sauce. A little fat here, some cayenne, a lot of garlic there, splash of white wine, a tablespoon of a few things leftover in the fridge, finish with lemon zest and the next thing you know you have a sauce that's going nine different directions. You lose track when you're having fun, right? Well, get a grip sauce lovers.
"Like I always say, 'simplicity is elegant,"' said Chef Parisi. "Don't try to get too creative and mix together a bunch of flavors that don't go together. Remember that a sauce should just complement and not over power the flavor of that expensive steak you purchased!"
In other words, make it possible to taste and enjoy all the ingredients that's gone into your meal and appreciate them for what they are.
"I see a trend in sauces returning to simple, focused recipes; less ingredients and rustic techniques used to make traditional sauces or close to their true spirit," said Chef Selby. "I guess what I'm trying to say is…no more Asian sauces used in Latino dishes, and vice versa.
"From a technique perspective, my favorites are rustic and by hand. I certainly appreciate the multiple times strained veal demi glace and the puree's strained through tamis. Those preparations, though, are not exactly my style. I like to smash, pulse, blend, and grind!"
I'd like to smash my way into some sauce soon.
Go fresh or go home
You don't need to be convinced that local, fresh, and organic foods taste better–they always do. When the budget allows for it, I say go fresh or go home, and I'm not alone.
"Right now I am seeing more organic and more reduction sauces made with fruits and vinegars," said Chef Robin White of food blogging and #soupweek fame." [I'm seeing] more syrupy sauces, not so much the old classics."
Oh, we won't lose the classics. Don't you worry, Chef Robin.
Saucy Dipper says: Don't shun the dip
Clearly, I'm a fan of both sauces and dips. The line that differentiates between the two is not always clear, but I do know one thing for sure: Many feel that sauces are gourmet and dips are, well, more like picnic food (think tailgating and camping).
I asked Chef Selby for his take on sauces versus dips. Here's what he had to say:
"Sauces tend to be thinner and most likely more flavorful than a dip. Take for example spiced sangria reduction we use on a scallops dish at Vesta. We reduce sangria with bacon and mulling spice; the sauce is syrupy and super intense in flavor…perfect as a drizzle around 2-3 scallops, but not necessarily something you would want to dip carrot, fries, or pita in.
"Dips are going to be thicker, chunkier, and heartier. I'd hesitate to call them less flavorful, but they certainly are not as intense as a plate sauce. Ultimately though, if you like it, use the sauce or dip as you please!"
As for dipping sauce trends, Saucy Dipper says you should expect to see more dinner parties that are less like sit-down formal dinners and are more like appetizer parties…or dip parties if you will. In case you haven't yet heard of Dipstock, consider this your inside tip into the next big trend in sauce. Sauce and dip parties rock!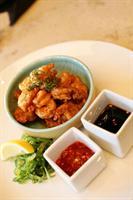 photo courtesy of Vesta Dipping Grill
You only think you're following trends
I know, I know, I just spent all this time telling you that there are trends in sauce, and now I go and tell you that there aren't.
If a tree falls in the forest, does it make a sound?
It's safe to say that sauce trends are up for debate.
"Most sauces stem from or are variations of the five mother sauces, so I am not sure that a trend will ever be created," said Chef Parisi. "Like I was once told, 'no matter what I have made, it has been done 100 times before.'"
Point well taken. Like most things in life, it has been done before. What makes your sauce different is how you apply it to your own creations.
"One of the best chefs, if not the best, in Cincinnati, Jean Robert de Cavel taught me to not pay attention to trends," said Chef Caitlin MacEachen Steininger of the Cooking with Caitlin media empire in Cincinnati. "Cook what you know and love. If it tastes good, people will keep coming back. I think if anything, there is a trend of limitless possibilities, especially when it comes to sauces."
Thanks for reading!
****
If you missed the other articles in this series of articles on sauce, check them out here!
In the Beginning, There Was Mother Sauce
Who's Your Mama? Fall in Love with Mother Sauces
What Not to Do When You Make Sauce
You might also like…