on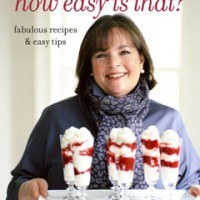 Last fall I received a complimentary copy of Ina Garten's cookbook How Easy is That? thanks to the Cake Duchess and her awesome give away. Since then, I've read almost every page of the book and tried quite a few of the recipes.
The two recipes I can't wait to share with you are, of course, a dip and a sauce. What else!



An Ina Garten-Inspired Tapenade
During the last Dipstock, Jason, my husband, made a killer tapenade. I made a similar tapenade inspired by both Jason's recipe and Ina Garten's recipe. Combined, I made one fantastic tapenade.
*1/3 c. kalamata olives
*1/3 c. black olives
*1/3 c. green olives
*2 tbsp. capers
*2 tbsp. olive oil
*1 clove garlic, minced
*1 tbsp. lemon juice
*1 tsp. thyme, minced
*2 tbsp. fresh parsley, minced
*1 tbsp. lemon zest
*black pepper
*1/3 c. mascarpone cheese
Directions: Soak olives and capers in water for a five minutes. Rinse thoroughly. Put all ingredients in a food processor, except for the cheese, and blend. Once fully blended, add the cheese and blend again. Let the tapenade chill in the refrigerator for an hour (or so) to let the flavors meld.
Ina's recipe called for a few more ingredients, namely anchovy paste and tuna (jarred or canned), but I went without both. If you choose to include tuna, then by all means include the mascarpone. Otherwise, I don't think you need it. I made a batch with the mascarpone and one without, and the flavor of the cheese is so mild that it really didn't add much.
Ina Garten's Bolognese Recipe
This is my vegetarian version of Ina Garten's Weeknight Bolognese recipe.
*1 tbsp. olive oil
*1 c. meatless grillers
*4 garlic cloves, minced
*1 tbsp. Italian seasoning
*¼ tsp. crushed red pepper flakes
*1 c. dry red wine
*1 medium tomato, diced
*2 tbsp.  tomato paste
*1 tsp. Kosher salt
*1 tsp. black pepper
*3/4 box small shells
*¼ tsp ground nutmeg
*1 tbsp. dried basil leaves
*¼ cup heavy cream
Directions: Heat olive oil in a large skillet over medium-high heat. Add the grillers and stir until warm. Add garlic, Italian seasoning, and red pepper flakes and cook for one more minute. Pour wine into the skillet and stir to scrape up bits. Add the tomato, tomato paste, salt, and pepper, stirring all the while. Bring to a boil, then simmer for 10 minutes.
While the pasta cooks, add the nutmeg and basil. Measure the cream and add a few spoonfuls of the warm sauce to the cream. Stir and then pour the cream mixture into the sauce. Simmer for 10 minutes. Serve over pasta with some fresh Parmesan.
I gotta say that this bolognese was excellent. I was surprised at how much spice those red pepper flakes added and at the nice twist of the nutmeg. This recipe will definitely be made again at our house. Thanks, Ina!