Many advise that making your own vegetable stock is a MUST DO. Seeing how I make a few sauces and soups around here, I heeded the advice and made my own. Here's how homemade vegetable stock compares to store bought vegetable stock:
Does it take less time to make your own vegetable stock? Of course not.
Is homemade vegetable stock cheaper? Heck no.
Does homemade vegetable stock taste better? Sure.
Is homemade veggie stock better for you? I'd assume so. (It is fresher and therefore has more nutrients.)
I know that I'm supposed to convince you that homemade vegetable stock is the only way to go, but I'm not convinced. I'll agree that it tastes better, but, for the price and effort, it doesn't taste THAT much better.

The skinny on store-bought vegetable stock
Price (for organic): $2.99
Quantity: 32 ounces
Time: 5 minutes to buy
Shelf life: At least nine months
Expiration: One to two weeks after opening (depending on who you talk to)
The skinny on homemade vegetable stock
3 loose carrots – $0.55
1 celery root – $3.74
2 celery stalks (bought 1 lb.) – $0.99
2 leeks (bought package of 3) – $2.99
3 onions – $2.67
7 oz. button mushrooms – $1.99 (on sale from $3.14)
1 fennel – $2.51
3 cloves garlic (bought entire bulb)  – $0.50
4 sprigs parsley (bought whole bunch) – $0.77
4 sprigs thyme (bought whole bunch) – $3.29
Ziploc containers for freezing – $2.34
Total price: $22.34
Quantity: 32 ounces
Time: One hour to simmer, 20 minutes to prep
Expiration: Keeps one week in fridge or six months in freezer
*I bought organic when available. I understand that I didn't use the entire lot purchased for the stock. There were some remaining ingredients that I used for other things, but I'm still factoring the entire cost…'cuz I can.
How to Make Homemade Vegetable Stock
I took all the veggies above, cut them up, and threw them in a large stock pot with the herbs. Here's a photo of the characters involved…

Oops. Forgot to include the garlic cloves in the photo.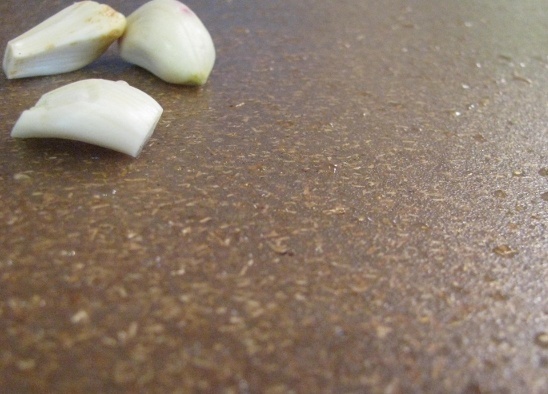 I poured just enough water into the pot to cover the vegetables, brought the water to a boil, and then let it simmer for an hour. This is what the stock looked like before I ran it through a fine mesh strainer, an essential step in making vegetable stock. (Sorry about the glare in the photo.)
My first dish that called for vegetable stock? A quinoa-veggie mix. A little bland, but with some pepper and hot sauce I ate it right up.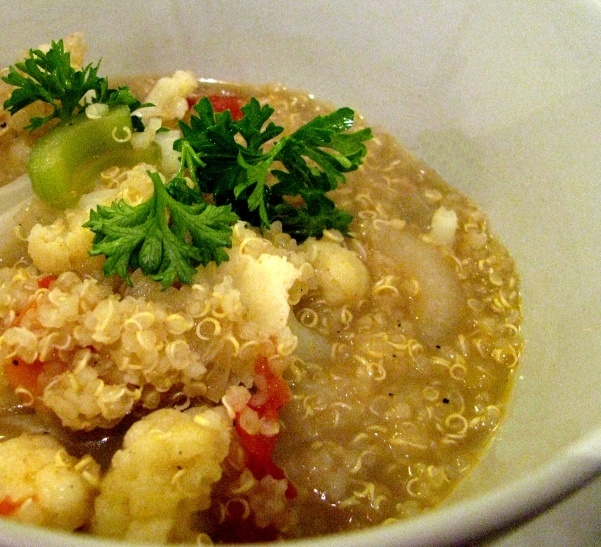 I now have an abundance of vegetable stock in my freezer, which means I have plenty of stock for future soups and sauces.
How should I put the rest of the stock to use? What do you think I should make next?'
ps – Check out a more recent post that highlights a free version of home made vegetable stock. I think you'll like it.