on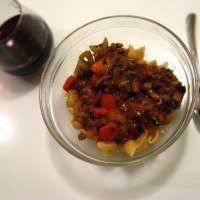 In it's simplest form, espagnole sauce is a meat-based stock thickened with a roux. You make beef stock by slowly simmering beef bones and trimmings in herbs for several hours. It's a time intensive process that requires one hefty stock pot.
I have not endeavored to make a beef stock, but I have made vegetable stock. While at first I didn't think all the money and time was worth making a homemade vegetable stock, I have since changed my mind. Vegetable stock is a good thing to have around and a good way to make a quality meal, especially a faux espagnole. 
How to Make a Vegetable, Vegetarian Espagnole-esque Sauce
*2 tbsp. butter, divided
*1 celery stem
*3 carrots
*1 yellow onion
*1 portobello mushroom
*2 tbsp. flour
*2 c. vegetable stock
*1/2 c. pureed tomatoes
*2 tbsp. basil
*salt and pepper to taste
Directions: Melt 1 tbsp. of butter in stock pot. Add chopped celery, carrots, onion, and mushroom to pot and cook until soft. Meanwhile, create a roux (1 tbsp. butter melted with 2 tbsp. flour) and leave it on the heat until its brown, but not burnt. Add stock and tomato puree to roux. Stir continuously over medium heat until thick. Add thickened stock and tomato mixture (vegetarian espagnole) to vegetables. Add basil, salt, and pepper and simmer for 5-10 minutes.
Notes: I added added 1 tsp. of coffee to this recipe, but I really don't see the point. The idea is to make the sauce brown, so that it resembles a real beef espagnole sauce. But who cares?!?!
The sauce was served atop noodle shells and fake ground meat (soy) with some fresh Parmesan. While it tasted good, the meal was nothing to write home about. Next time around I'll do more in the way herbs and peppers to bring it up about five notches.
What would you do to make this vegetarian dish better?