on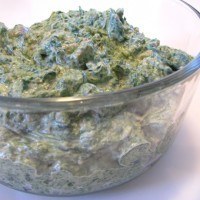 Dipstock celebrations officially start today!
For me, though, Dipstock started yesterday when I made a spinach-bacon dip for a get-together with friends. Several of my friends partook in Dipstock by making their own dips. We got together. We laughed. We dipped.
I have good friends.


Spinach and Bacon Dip Recipe
*1 package frozen spinach
*7 pieces bacon, cooked and crumbled
*1, 8 oz. package cream cheese
*1, 4 oz. can green chiles
*pepper to taste
Instructions: Combine cooked spinach and bacon with cream cheese, green chiles, and pepper in a bowl. Mix well. Let chill for at least an hour. Serve with bagel chips.
Afterthoughts: Add more than 8 ounces of cream cheese, because this recipe doesn't make for a creamy dip. Next time I will forgo the canned green chiles and instead chop up a few jalapeños for spice.
I'll feature the other party dips later in the week. And if you want to have your dip recipe featured here on Saucy Dipper, send it in as part of the Dipstock festivities before next Saturday!