on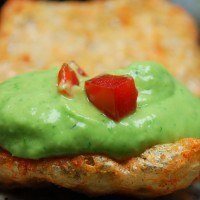 It's the last day of Dipstock, and I can't think of a better way to end the party than with a guacamole, one of THE quintessential dips. This recipe was submitted by Sweet Life, a wonderful food blogger who has a serious knack for Texan-inspired recipes and food photography (the pic on the left is hers).
What I love most about the recipe is her suggestion to serve guacamole with pork rinds, which is one dipper I've never considered. Genius thinking! A little bit of sweet. A little bit of spice. A little bit of salty. Sounds like the perfect combo.
Creamy Guac Recipe
by Sweet Life a/k/a Vianney Rodriguez
*2 large avocado
*1/2 cup cilantro with stems
*2 tbsp yogurt
*1 tbsp fresh lime juice
*1/4 cup onion finely diced
*1 serrano chile (you can remove seeds for less heat)
*salt
*freshly ground pepper
Instructions: Combine all ingredients in blender and blend until smooth. Season to taste with salt and pepper. Serve with chips or pork rinds!