on
Sometimes this dipper wants the flavor of a good dip without actually doing any dipping. And that's exactly why I am featuring these three creative snacks. I can't take credit for any of the following recipes, but I can attest to their awesomeness.
First up, baked spinach dip mini bread bowls from the Picky Palate. If you're not careful with these, you could eat your entire day's wroth of calories in one sitting. They're that good.
My mini spinach dip bread bowls were not near as pretty as Picky Palate's. She measured the dip and the mozzarella perfectly. You'll have to visit her blog to see what I mean.
Me, on the other hand, I just scooped and sprinkled to my heart's content. The results were both good (delicious) and bad (messy).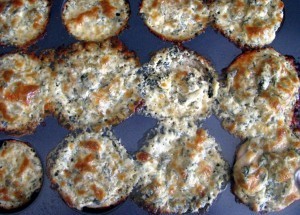 Next up we have brisket dip from Sweet Life. Hopefully you recognize the name of this fantab blogger, since she's a regular participant of Dipstock. She has some of the most creative ideas, and I seem to like them all. Sweet Life has good food style.
Anyhow, about that dip.
I used my slow cooker to make the brisket. It took all day. Once the brisket was ready I sliced tomatoes and made a quick guacamole to serve alongside the brisket.  Because brisket is too heavy and stringy to dip (I thought so anyway), I neatly placed the brisket, tomatoes, etc. on individual tortilla chips. Then I melted some cheese over the top. Delish!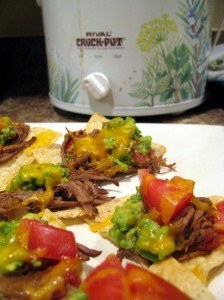 Last, we have cheesecake stuffed strawberries from Nutmeg Nanny. These beauties don't need much introduction. I think you can imagine how amazing they are.
After you've made the strawberry center hollow, fill it with a cream cheese, vanilla, and powdered sugar mixture. Then sprinkle on some graham cracker crumbs to top it off.
When your friends come over set the plate out and watch them go crazy. If you feed them cocktails before hand, they'll be extra-enthusiastic about this creative snack.
Do you have any creative dipping and snack ideas? Do tell.