on
But horseradish tastes good once you get past the burning in your nostrils.
Last week I wrote about the best French dip and au jus of my life, and you may remember me mentioning the horseradish. Is it only me or is a meal not complete without some kind of topping, spread, sauce, or dip?
Horseradish is a great condiment to have on hand during the summer. It goes great with all those barbecues you'll be having and all those sandwiches you'll be eating.
Sure, you can buy a jar of prepared horseradish, but what fun is that? Horseradish root is easy to find (I found it at Wal Mart!), and super simple to make. Just be warned that it will be stinky. Open the windows and plan to wash the dishes right away. 
How to Make Prepared Horseradish
*1 horseradish root
*1/2 cup white vinegar
Instructions: Cut off one inch from each end and peel the root with a knife. It'll take too long with a vegetable peeler. Cut the horseradish in small chunks and toss into the food processor. Process until you have uniformly small pieces. Scrape down the sides, pour in vinegar, and process again.
Notes: You'll end up with stronger horseradish if you let the horseradish root rest before adding the vinegar…or so I'm told.
I added way too much vinegar to my batch. I'm not sure what I was thinking. I guess I thought the horseradish would absorb the liquid, but not so much. I ended up pouring a lot of the vinegar out, which diluted the horseradish strength. I recommend you barely cover the horseradish with vinegar. If that's not enough for your taste, you can always add more later. No harm done.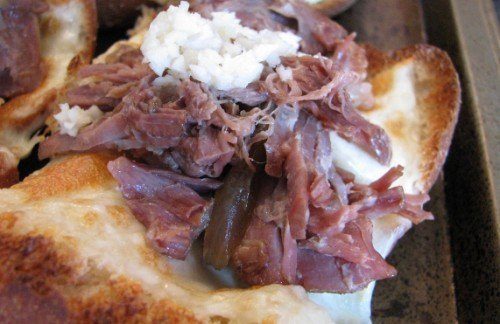 How to Make Horseradish Aioli
*1 tbsp. prepared horseradish
*1 large garlic clove, minced
*3/4 c. olive oil
*3 egg yolks
*1/2 tsp. salt
*1 tbsp. Dijon mustard
*1 tsp. white vinegar
*1/2 tsp. pepper
*1/2 lemon, juiced
Instructions: Put garlic, horseradish, and olive oil in mixing bowl. Whisk. In a separate mixing bowl add egg yolks, mustard, and salt. Whisk thoroughly for a minute or more. Slowly add the olive oil to the egg mixture being careful to pour slowly all the while you whisk. Once the mixture starts to resemble mayo and you've got half the oil left, add the vinegar and continue whisking. Slowly add the remainder of the oil. The trick is to whisk fast and continuosly to ensure an emulsion. Add the pepper and lemon juice last.