This dip was truly an experiment. I read a few recipes for aji amarillo dip, yeah, but when it came time to produce, I just threw a bunch of ingredients together until I found a flavor I liked. I'm not sure what I expected. Something spicy? Something unique?
Again, not sure. But what I got was a nice potato chip dip that surprised my friends at a 4th of July barbecue.
The recipe that follows is a best guess of what I did. If you like aji amarillo or potato chip dip, then you should play around, too. Try different combinations until you've got a flavor you like.
Before I get into the recipe, though, I want to talk about aji amarillo paste. Many aji recipes I found called for paste. I purchased aji ground chiles at the Savory Spice Shop (you can read more about that in my post on how to make aji sauce), so it's easy for me to make paste. But if you're using the actual pepper, then that will require a little more effort. The point is that you want a smooth consistency for your sauce or dip. You don't want chunks of peppers in it. Here's what my paste looked like….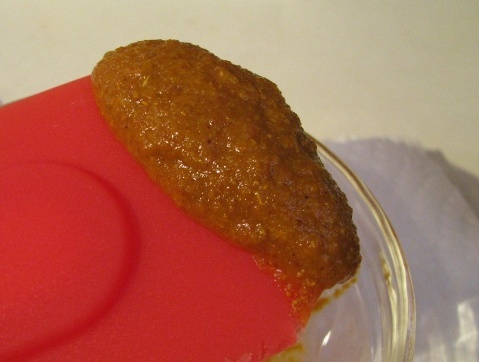 I dipped with your standard kettle cooked potato chip, because I love potato chips (no ridges, please), which is suitable seeing how aji amarillo is commonly eaten in Peru. In Peru, based on what I've read, they eat their aji sauces and dips with fried potatoes, including sweet potatoes. (Click here for more potato chip dip goodness.)

A traditional sour cream chip dip with aji for kick.
Ingredients
½ lemon, juiced
2 tbsp. ground aji chiles
1 c. sour cream
1 tbsp. mayo
1 tsp. cumin
2 tsp. garlic powder
1 tsp. salt
Instructions
Make an aji amarillo paste by combining lemon juice and ground aji in a small bowl. Stir until smooth.
Combine all ingredients in mixing bowl.
Mix well, chill, and serve.