on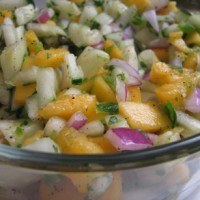 Most of the time I prefer a smooth dip over a salsa, but on a hot night not too long ago I got a hankering for a fruit salsa that couldn't be denied. After some research, I decided on a mango-cucumber salsa. The freshness of the mango and cucumber was exactly what I wanted on that particular summer evening.
And that's when it started.
A mild fascination with fruit salsas developed and I've made a few since. This is the first recipe I'll share, but expect to see more in August. I've declared it my "Month O' Fruit Salsas"!
First up, I want to tell you to love your mangoes…
Mangoes are under eaten in my opinion.
You can find the following fruit salsa recipe in many places. But I added a few of my own touches that I think worked well. Other than adding a bit more spice, I wouldn't change a thing.

Mango Cucumber Fruit Salsa
2 jalapenos
handful of fresh cilantro
1 mango, peeled and chopped
1 cucumber, peeled and chopped
1 small purple onion, chopped
½ lemon, juiced
salt and pepper to taste
Cut off the ends of the jalapenos and de-seed peppers if you don't want the salsa spicy.
Throw jalapenos and cilantro in food processor.
Combine all ingredients in mixing bowl and gently stir.
Taste and adjust seasoning to your liking.
Chill for at least an hour before serving.
I de-seeded the peppers and the salsa had no heat. If you want it spicy, I say keep the seeds and possibly even add another pepper or two. Part of me really wanted to add an avocado to this salsa, but after paying $2 for a mango I couldn't bring myself to pay another $2 for the avocado. I bet it'd be good, though!