on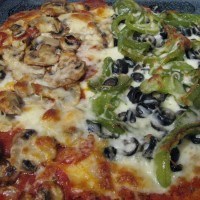 You could order a large pizza in Denver for anywhere from $8 to $20, or thereabouts. You could also make your own pizza for anywhere from $10-$25, or thereabouts.
I'm all for making your own food because it's healthier and cheaper than the restaurant version, but when it comes to pizza–good pizza–it's definitely not cheaper to make it on your own. Although, homemade pizza is probably healthier, especially if don't pour on the grease like your local pizza joint does.
Either way, I recently set out to make a pizza sauce for use on a semi-homemade pizza (I bought a Boboli crust), because I wanted to know how the sauce would vary based on the use of fresh versus canned tomatoes. Since I don't have a real positive history with red sauce, I was hesitant.
You see, last winter I made a red pasta sauce and it tasted so horrible I contemplated giving up on sauce altogether…it was that bad. I'm happy to report that this homemade sauce adventure went much better. I made two versions (one with fresh tomatoes and one with canned) based on recipes I found here, here, and here.
This pictures shows you the results (sauce with fresh tomatoes on bottom and sauce with canned tomatoes on top)…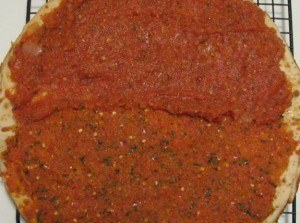 Pizza Sauce Recipe with Fresh Tomatoes
*4 roma tomatoes
*1/2 yellow onion
*4 garlic cloves
*1 tbsp. olive oil
*1 tbsp. dried basil
*1 tbsp. dried hot peppers
*1 tsp salt
Directions: Throw tomatoes, onion, and garlic in food processor. Heat olive oil on stove. Add tomato mixture and seasonings to pan. Let simmer for 30+ minutes.
Notes: I was surprised at how pink the sauce appeared at first. By the end, the sauce wasn't as pink but so much of it evaporated that, again, I was surprised. Even though it wasn't runny like I wanted, the flavors were bright and sweet. Worked well.
Pizza Sauce Recipe with Canned Tomatoes
*1 tbsp. olive oil
*1/2 yellow onion, chopped
*1 can diced tomatoes
*4 cloves garlic, minced
*1 tbsp. dried basil
*1 tbsp. dried hot peppers
*1 tsp. salt
Directions: Let the onion simmer in olive oil until translucent. Add tomatoes and seasonings and continue to simmer for 10-15 minutes. Turn off heat, let cool. Process in the food processor.
Notes: This version of pizza sauce was still very good, but not phenomenal because it wasn't runny like I wanted. The canned tomatoes produced a darker red appearance and gave the sauce a saltier flavor.
Oh, and in case you are wondering, I topped the fresh tomato sauce with pepperoni, mushrooms, and an Italian cheese medley, and I topped the canned tomato sauce with green peppers, black olives, and cheese. Since the crust was pre-made, I simply cooked the mushrooms and green peppers in butter for a few minutes on the stove, placed them on the pizza, and then let the pizza bake until the cheese bubbled.
The verdict on canned versus fresh tomatoes? Well, fresh is almost always better in my opinion, and this is no exception. However, the canned tomatoes definitely weren't horrible. If you don't have fresh or it's not in the budget, you can still make a lovely pizza sauce with canned tomatoes.