on
…make cucumber sauce.
I know that this headline makes it seem like chicken balls are a bad thing, but they're actually quite lovely. I simply wanted to write that headline, because how many times in your life can you say: "When life hands you chicken balls…"?
I'll probably only get to say it twice.
Anyway, about that cucumber sauce. Sauce recipes don't come much easier. Learning how to make cucumber sauce is about as easy as learning how to make honey mustard dipping sauce.
PLUS, I can think of at least 12 good uses for it off the top of my head. And that means there's probably 100 more ways to enjoy cucumber sauce that I haven't even thought of. For starters, there's tzatziki sauce on falafal, gyro, or most any Greek food. Then there's cucumber sauce on salmon or any other kind of fish. There's always cucumber dipping sauce for garlicky bread or crackers. And much much more.
Several months ago I had my girlfriends over for dip night. I made a few appetizers, including these chicken balls to serve with cucumber dipping sauce. It was a huge hit. My friends still talk about it.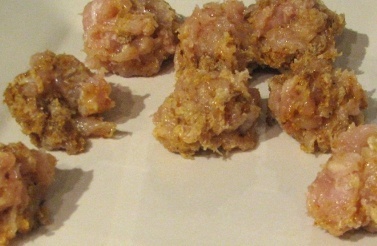 Super Simple Cucumber Sauce
½ cucumber, de-seeded
2 cloves garlic
1, 6 oz. container low fat greek yogurt
¼ lemon, juiced (optional)
De-seed the cucumber with the tip of an ordinary vegetable peeler.
Throw ingredients into the food processor and voila: cucumber sauce.