on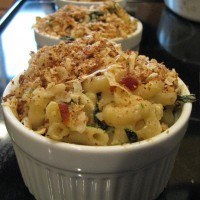 Mornay sauce = becahamel sauce with cheese, usually swiss or Gruyere.
Mornay sauce = perfect sauce for vegetables or noodles.
Morney sauce = the sauce that gives mac 'n cheese life.
We grilled steaks and I didn't want an ordinary French fry or baked potato. I know, so unlike me. Instead I made a very unhealthy and quite tasty macaroni and cheese composed of elbow noodles, spinach, bacon, and mornay sauce. And then to make it even more carb and fat-olicious I added bread crumbs and parmesean for a nice crispy topping.
If you had been there, you would've loved it. My friend Courtney said (and this is a direct quote): "This is the best macaroni and cheese I've ever had."
Why, thank you. Actually, thank the French peeps who mastered conventional mother sauces.

A Basic Mornay for Macaroni and Cheese
One bag elbow noodles
3 bacon pieces
1 bunch spinach
1 c. cream
1 c. skim milk
Pinch of nutmeg
2 tbsp. butter (unsalted)
2 tbsp. flour
1 c. Gruyere, grated
1 tsp. Dijon mustard
Salt and pepper to taste
½ c. bread crumbs
⅓ c. Parmasean, grated
Boil one bag elbow noodles in slightly salted water.
Fry up three pieces of bacon, crumble once cooled.
Wilt one bunch of spinach in bacon grease.
Combine noodles, bacon, and spinach in mixing bowl.
Heat the cream, milk, and nutmeg in a small sauce pan.
In a medium size sauce pan melt butter. Once butter is bubbly add flour to create a roux. Stir constantly with wooden spoon for 3-5 minutes or until the roux is a nutty color and smells like bread.
Ladle the milk into the roux mixture one spoonful at a time, whisking all the while. Once nice and creamy sprinkle in Gruyere and mustard and stir until smooth.
Add sauce to your noodle mixture and gently stir.
Pour macaroni mixture into ramekins and top with bread crumbs and Parmasean. Bake at 350 degrees for 5-7 minutes or until crispy on top.