on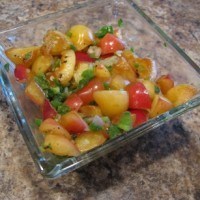 It's 4pm and I'm standing in the Whole Foods snack aisle. It must be 95 degrees outside. I didn't take a nap. Have I mentioned I'm pregnant?
Well, I'm tired, hot, hungry, PREGNANT, and irritated by the fact that I can never find the pita chips I'm looking for when I'm at the store. Are they in the chip aisle? Near the deli? On a random end cap near the ethnic foods? 
On top of all this, the clock is ticking. Friends are scheduled to come over for dinner in approximately 2.5 hours. I have the cherry salsa all worked out, but what the heck will I serve as a dipper? Not only are there no plain pita chips in sight, but nothing else seems right. A tortilla chip won't fit. No vegetable or fruit will work–no way. A rice cake? A potato chip? Argh.
I settle on plain Pop Chips and Stacy's Parmesan, Garlic & Herb Pita Chips. Not ideal at all, but it's what I have in my sights and given my current condition it will have to work. And guess what?
Cherry salsa tastes delicious with Pop Chips and garlicky pita chips.
I'm convinced fruit salsas are to appetizers what pizzas are to the main course. Even a bad pizza tastes good…and the same goes for salsa. Whether it's mango salsa, strawberry salsa, or cherry salsa, your taste buds will be glad you ate it, even if you do serve the salsa with a dipper that just seems all wrong.
The following is based on a Bon Appetit recipe.

1 c. cherries, pitted and cut in quarters
1 shallot, chopped
1 jalapeno, chopped
¼ c. cilantro, finely chopped
½ lime, juiced
Chop it all up.
Throw it in a bowl.
Stir.
Chill for an hour or so.
Eat!