on
It's been a fun month o' fruit salsas here on Saucy Dipper…four (count 'em) FOUR recipes. Man, did they all taste good. I talked about the mango cucumber salsa, the strawberry and yellow pepper salsa, the cherry salsa dip, and now my favorite: pineapple and green pepper salsa.
At least I think the pineapple salsa is my favorite of the four. The strawberry salsa comes in a close second thanks to that addition of red wine vinegar.
I liked the pineapple so much that I didn't even get a picture. What you see here is a stock photo. I know–huge faux pas in the food blogging world. Forgive me.
But, aside from the picture mishap, the salsa was another huge hit. I'm still so enamored by summery fruit salsas that I'm listing others I've come across but didn't make, at least not yet.
*Mango salsa from House of Annie
*Berry and apple salsa from 2 Wired 2 Tired
*Grilled corn, peach, and basil salsa at how sweet it is (While you are there check out the watermelon salsa, too. Oh, wow.)
*Spicy stone fruit salsa from Daily Bites
Now for the pineapple salsa recipe. I recently downloaded the Allrecipes.com Dinner Spinner phone app for Android. (No, this is not an endorsement. It's just a fact.) Anyway, while at Costco (also not an endorsement) I pulled out the phone to see what I could do with dip. And right there at the top of the results was pineapple salsa. Super simple and super delicious.
I think the key with pineapple salsa is a proper pineapple. Make sure yours is fresh, not canned, for the best results.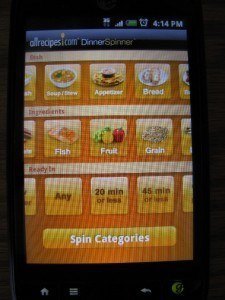 Here's the Allrecipes pineapple salsa dip recipe with minor variations.

Pineapple and Green Pepper Fruit Salsa Dip
2 c. pineapple, chopped
1 green pepper, chopped
½ sweet onion, chopped
½ lemon, juiced
1 jalapeno, chopped
dash of kosher salt