on
Several months back I attended my good friend Larissa's wedding in San Juan and had the pleasure of eating some great Puerto Rican food. No joke – I could eat mofongo and sweet plantains every day.
In the picture I'm eating a crab cake dipped in chipotle aioli. Not exactly Puerto Rican food, but whatever, it was good!
Despite all the great food I ate at the wedding and at some of the restaurants I visited, there is one Puerto Rican food I'm not all that sure about. And believe or not, it's a dipping sauce.
I came across the questionable dip at a local hangout near our hotel. When eating the dip my tongue told me it was one part ketchup and two parts mayonnaise, and after a short Internet search I learned my tongue was correct.
Don't get me wrong. A ketchup and mayonnaise mix has its place. I first discovered that goodness in London. Try swirling a chip in a little bit of ketchup and mayo to see what I mean.
Yum. That's what I mean.
Anyway, back to the ketchup-mayo dip enjoyed by Puerto Ricans and referred to as salsa de sofrito or salsa rosa. The dipping sauce is normally served alongside fried foods including the popular fried corn sticks (sorullitos) pictured here.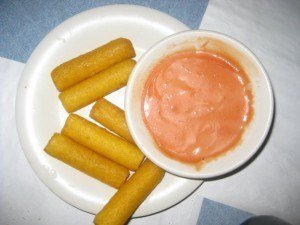 Who would deny themselves that deep fried goodness?
Back home I decided to revisit salsa rosa. I made two versions. The first using only ketchup and mayo and the second using real food as ingredients.
The hubs and I put the dips to the test with corn chips. What, did you think I was going to fry up corn sticks? Right.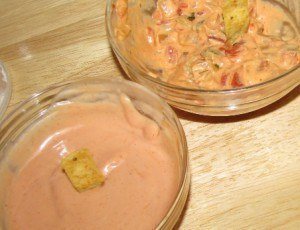 There was absolutely no question that the homemade dip tasted better. But to be sure, I cooked up a batch of tater tots (yes, I said tots). Believe it or not, the tots tasted alright with version number one (bottom of the photo)
If you'd like to know my super duper complicated recipe for version number two (top of the photo), then here you go.
Saucy Dipper's salsa rosa recipe:
*2 c. homemade chunky red sauce or salsa
*4 heaping tbsp. light sour cream
ps – This recipe was featured in the Puerto Rican Regional Recipes Round Up hosted by Joanne of Eats Well with Others. Head on over and check out some of the other featured Puerto Rican dishes.