on
A whole chicken from the grocer costs less than four chicken breasts. Did you know that?
I didn't know that, and I was pleasantly surprised when I bought a completely gutted and ready-to-go chicken for a batch of chicken soup I made recently.
I'm not crazy about canned chicken soup. In fact, I don't like it at all. That's why I normally use store-bought stock to make my soups.
But on this day I was feeling adventurous. On this day I wanted to boil Ms. Cockadoodledoo down to the bones instead. It was very rewarding to actually SEE the flavor floating in the stock.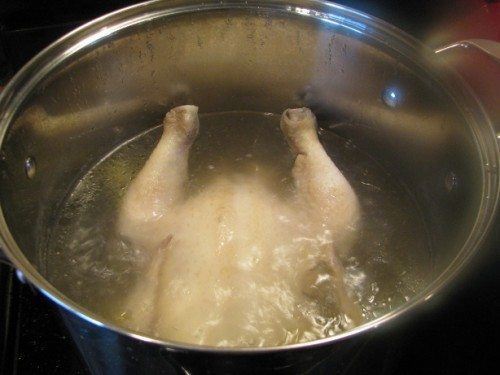 By the way, stock is made by boiling bones, and broth is made by boiling meat. The stock versus broth topic seems like it could easily fall into a heated culinary debate about how to make sauce properly, so I won't get into too much detail here. My only point is that I'm calling this stock, because I boiled bones.
The recipe for chicken and noodles on the Pioneer Woman looked just about right, so I chose to follow that one relatively close. Here's the abridged/modified version.
How I Made Chicken Stock and Chicken Noodle Soup
Ingredients:
*1 whole chicken
*1 yellow onion, chopped
*3 large carrots, chopped
*3 large celery sticks, chopped
*1tbsp dried Italian seasoning (parsley, oregeno, etc.)
*1 tbsp. dried thyme
*salt and pepper to taste
*1 package egg noodles
Directions:
1. Boil your chicken for 30 minutes in four quarts of water.
2. Remove chicken from water.
3. Use a fork (or fingers) to take the meat from the bone. Return the bones to the bubbling water and boil for 45 minutes.
4. Remove ALL bones from water. (I ran the stock through a strainer to be sure.)
5. Add your mirepoix to the bubbling water. Mirepoix = one onion, three carrots, and three pieces of celery (chopped).
6. Add the spices of your choosing (I chose Italian seasoning, thyme, salt, and pepper, but I don't think you can ever go wrong. Use the spices you have on hand and prefer with your chicken soup.)
7. Return meat and add noodles to stockpot and simmer for 10 minutes.
8. Eat.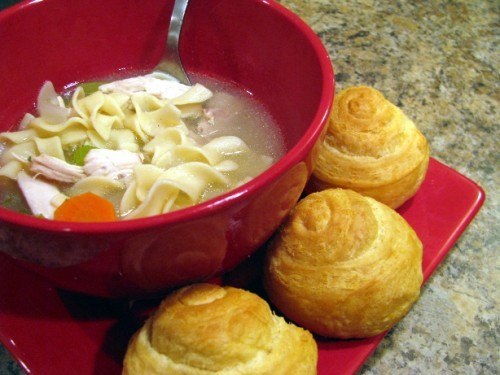 ps – I am not ashamed that I ate THREE rolls that came out of can! 🙂 A pregnant lady knows what she wants.