on
Confession: Up until recently I hadn't eaten many-an-endive. Sure, a couple times they made their way into a salad I ordered at a restaurant. A friend may have snuck them on a plate at a dinner party without me noticing.
But a few months back while on Twitter I met someone. I met @DiscoverEndive. Actually, I met Casey who works to help get the word out about endives. And that's when things changed for me…
Turns out there's a whole world of things you can do with endives. I know now that I've experimented with them more. In fact, I spent an entire Sunday afternoon doing nothing but dip and endive experimentation. I basically emptied the fridge and went to town.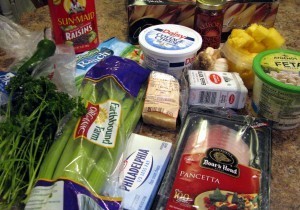 But before I share those dip recipes, let's first talk about using endives as a dipper.
Five Reasons You Should Dip with Endive
1. An endive has 17 calories. (That's why they call it the slimmer dipper.)
2. Carrots and celery have had their hay day. It's time to make room for a new veggie on that relish tray.
3. Endives are versatile. I've dipped an endive in both sweet and savory dips and found them both delightful. (Might be due to the fact that an endive is both sweet and bitter tasting.)
4. Endive is a fun word to say. Certainly more fun than saying "cracker."
5. They're available year round.
Bonus Reason: Discover Endive is the Super Bowl Dipstock Sponsor!
In case you haven't heard, we've got a Dipstock happening RIGHT NOW. You can read all about how to enter (and how to get prizes from Discover Endive) over on this post about Super Bowl dip ideas.
The Endive Dipping Experience
An endive is about three inches long (give or take) with a firmer, crisper, and bitter-tasting bottom end and a softer, bendier, and sweeter-tasting top end. I found it's best to use the firmer end to drown in the dip and then eat the other half on a second dip-less bite. A dip free bite is a nice way to clear the palette. Plus, remember that double dipping is dangerous.
Three Dips Made for the Endive
Now back to that Sunday afternoon where I dipped with endives like I've never dipped before. Here are three dips that I think work just about perfectly with an endive.
Light Ranch Dip
Ingredients:
*1 c. cottage cheese
*1/4 c. raisins
*1 small celery stalk, finely chopped
*1 tbsp. powder ranch seasoning mix
Instructions: Mix well and serve with endive!
Spicy Pineapple Dip Over Pancetta and Endive
Dip ingredients:
*1 c. pineapple
*1 large jalapeno
*1/4 c. cream cheese
Instructions for dip: Blend all ingredients together using hand blender. Place two pieces of pancetta on an endive and then spoon the dip over the pancetta.
The shipment of endives I received from Discover Endive* actually came from their parent company, California Vegetable Specialties. Seeing the word "California" and then munching on this fruity dip really got me thinking  about warmer days. It seemed only right that I break out the Hawaiian t-shirt plate.
Isn't it darling?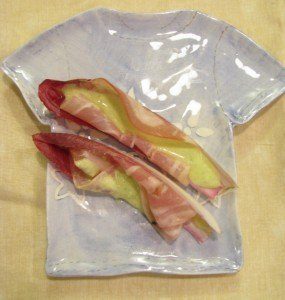 A Greek-Food Lovers Dip
Ingredients:
*1, 5 oz. container plain Greek yogurt
*1/4 c. feta crumbles
*1/8 c. sundried tomatoes, roughly chopped
*1 garlic clove, minced
*2 tbsp. parsley, roughly chopped
*salt and pepper to taste
Instructions: Mix all ingredients together with a spoon taking care to leave feta crumbles in tact. This dip is better chunky. If you like your dips spicy hot, then throw in a few splashes of hot sauce to heat things up. I did and it was a nice touch.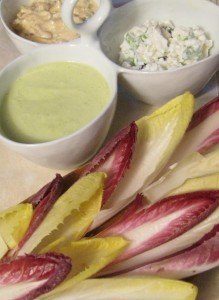 This last dip was my husband's favorite. Even he–a true tortilla chip fanatic–enjoyed dipping with an endive. Although he didn't really like it when I forgot I had just finished chopping jalapenos and splashed water on his face. Sorry, honey!
*Disclosure: Discover Endive provided the endives in exchange for this post.