on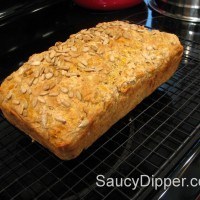 Help me welcome my husband, Jason, today. This isn't his first time writing for the Saucy Dipper, but it is one of the best things he's made yet.
***
Here's a nice little beer cheese bread recipe I stole from Alton Brown of Good Eats (see the original recipe). Here's how I made it, some photos, and some other notes.
A couple of items:
First, I went off book a little and substituted 1/2 teaspoon of dry dill for 1 tsp of fresh dill. This may have dried things out a bit.
Second, I used Belgian Ale. It has a pretty strong flavor to begin with, and then mixing it into cheese bread takes that flavor to another level – this bread tastes a lot like beer. If you want a milder, more bread flavor, I'd suggest using a mild light beer.
Ingredients
8oz. all-purpose flour
4oz. whole-wheat flour
1 tbs baking powder
1 1/2 tsp. kosher salt
1 tsp. sugar
1/2 tsp. dried dill
4 1/2oz. grated cheddar cheese
12oz. cold beer
Dry roasted, salted sunflower seeds (optional)
Directions
Heat oven to 375, and spray a standard 9×5 loaf pan with nonstick spray.
Whisk/sift together the all-purpose flour, wheat flour, baking powder, salt, sugar, and dill in a large mixing bowl.

Add in the grated cheese and mix until even.
Form a small well in the middle of the mixing bowl so that when you pour in your beer, it will be easy to combine with the dry ingredients quickly.

When you mix the beer and the dry ingredients, do not over stir. Mix it just barely enough to get the dry ingredients moist.
Spread the dough into your loaf pan and then sprinkle with sunflower seeds (if you want them, anyways).

Bake for at least 45 minutes at 375, but you may have to go a full hour to reach the desired 210 degree temperature.
Remove from the oven and cool in the pan for 10 minutes, than transfer the bread to a cooling rack for 10 to 15 minutes before slicing and serving and/or wrapping in foil.
A note about alcohol
Most of the alcohol in the beer will bake out, but not all of it – something like 5-20% of the original alcohol will remain after one hour of baking (the range is indefinite mostly because I've never seen anything super-scientific in terms of alcohol and baking…if you know of an exact guide somewhere, please drop a link in the comments). However, since it's easy to get 10 slices of bread out of this loaf, and if you figure all but 10% of the original alcohol remains, than we're talking 1/10th of 10%…or that each slice contains about 1% of the alcohol in one beer. SO, don't worry about it.
Serving Suggestions
As you can imagine, beer cheese bread tastes great alongside a beer, but it also compliments Sara's beer cheese dip quite nicely.
Cheese Dip Recipe
16oz light cream cheese
1/2 c. light sour cream
2 c. sharp cheddar cheese
3/4 of a ranch dressing packet (in salad dressing aisle)
1/4 c. beer
Directions: Mix all ingredients. Go easy on the ranch seasoning. Add too much and the dip will be too salty. Chill for two hours before serving. (Good with bread and with Fritos.)
Enjoy!