on
One of the advantages of having a blog is the chance to work with brands and the chance to attend fun events. I enjoy the events most of all, especially if that event includes bacon! This last weekend I attended the mother of all bacon events — The Denver Bacon Takedown, sponsored by Hormel® Black Label® bacon and hosted by Matt Timms.
In addition to eating BACON for two hours straight, the biggest highlight was forcing my friend Michele to put her head through a bacon poster. It seriously doesn't get any better.
Here are the other highlights…
Meeting Tiffany of Strudel & Streusel! Together we judged all 16 treats to decide on our favorites, which were:
1st: Crockspot /Occupy Bacon Team – Bacon Bowl (plantain yam mash, shredded pork shoulder and mango style chimichurri in a mini bacon bowl)
2nd: Jason Morse (2 Kids Confections) – Wilbur's Famous Caramels & Divine Swine Cookies
3rd: Brook – Cajun Chicken Fried Bacon with Apple Bacon Chutney
4th/honorable mention: Clayton – Smoked Swiss Bacon Bread
Here we are working really hard to decide the winners.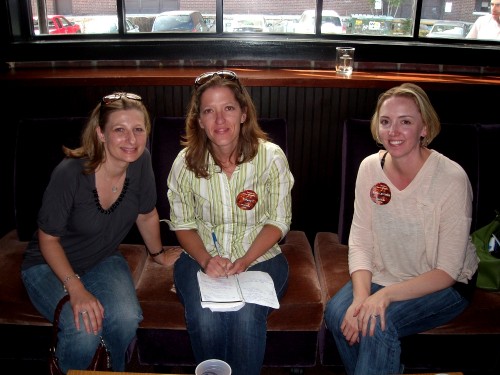 Tiffany is the gal in the center, and her friend Lynn is on the far left. That's me sitting so far away! (It was the bacon breath.) Photo courtesy of Tiffany at Strudal & Streusal.
The next highlight was meeting Matt Timms. This guy does everything. He acts, blogs, grows a mean beard, and hosts different Takedowns all over the country.  He says the whole thing started in his Brooklyn apartment, and I think that's awesome. I can respect a guy who respects food. You can read all about Matt, see a full list of the Denver Bacon Takedown participants, including the people's choice winners, and check out the list of upcoming Takedowns on his website – TheTakedowns.com.
Last, I'm psyched to receive a giant list of bacon recipes THAT FEATURE SAUCE (or a variation of a sauce) from the event. Get a load of these:
Apple bacon chutney
Mango style chimichurri
"Breakfast for Dessert" using a creme anglais for the eggs
Pineapple bacon mousse with roasted jalapeños
Bacon jam and bacon butter
You can bet I'll be making these bacon recipes and posting them here to Saucy Dipper. Stay tuned…
ps – You can see more hilarious bacon poster pics on the Hormel Facebook page.