on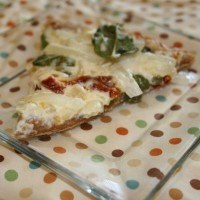 Few pizzas will get a rave review from me. Of course, I love pizza. But I don't rave about it. At least I didn't until I met my new friend "ricotta sauce."
How do you make ricotta sauce, you ask? Ummmm…turn up the heat on some ricotta and add a touch of milk. It doesn't get easier, or tastier. That is reason #1.
Reason #2 to Make Ricotta Pizza: Caramelized Onions
It's true that the ricotta makes this pizza, but the caramelized onions get some credit, too. To make, simply chop your onion and barely simmer in olive oil over very low heat. The trick with caramelizing onions is patience. It will take you upwards of 20 minutes to do it right.
On the night I made my ricotta pizza, I was too darn hungry to wait for that beautiful brown color to appear. I settled on a touch of tan. The onion was still sweet, so it wasn't a loss.
Reason #3 to Make Ricotta Pizza: Fridge Cleaning
In addition to the amazing ricotta sauce and caramelized onions, this pizza is also a new favorite because it allows for a little refrigerator door cleaning. You know what I'm talking about. It doesn't take long to acquire random dressings and condiments. For the most part, these jars and tubs just sit in the refrigerator door going ignored for who knows how long.
With this pizza, I delighted in exploring that oft overlooked space. Enter sundried tomatoes and capers. Why did I ignore you guys for so long?
Hope you make this pizza soon. It really is easy and wonderful.

2 tbsp. olive oil
2 tsp. salt
1 medium white onion, sliced
3 garlic cloves, minced
1 tbsp. red pepper flakes
¾ c ricotta cheese
¼ c. milk
1 pre-made pizza crust
fresh basil
sundried tomatoes
capers
Heat olive oil in pan over high heat, add onion and salt.
Reduce to low heat and cook until onions are a nice caramel-color (up to 20 minutes).
Add garlic and red pepper flakes and leave on heat for 1 minute.
Add ricotta and milk. Stir. Let reduce a touch. Turn off heat.
Pour mixture over pizza crust.
Sprinkle desired amount of basil, sundried tomatoes, and capers over sauce.
Bake at 450 on top rack for 8-10 minutes.
Eat.
Obviously, you can make your own pizza crust. I'm sure it would make this tasty pizza even tastier.