on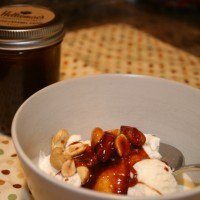 Several weeks back I was fortunate to tour the Helliemae's Handcrafted Caramels factory here in Denver. I went with my gal pals from No Plain Jane's Kitchen and Creative Culinary. What a treat! Let me tell ya.
The fact that Ellen (the brains behind Helliemae's) opens her doors once a month to the public and invites people to ask questions, sample the caramels, and take a peek at her kitchen is not only generous, it's smart marketing. The day we visited there must've been more than 15 people milling around.
Two things that Ellen said really stood out to me:
1. She chose to make caramel for grown ups. Right. I so get that. No longer do I like the it's-so-sweet-it-hurts-your-teeth variety of candy. I like foods with deep, sometimes bitter, flavor.
2. Helliemae's Handcrafted Caramels are not for breakfast; these are occasional treats. Ellen doesn't hide the fact that she uses A LOT of butter in her caramel recipe. In hearing that you may wince, but, again, these caramels aren't something you should eat every day. Indulge every now again. Maybe on those days that you skip breakfast.
While Helliemae's does not have a storefront (she sells through her website or through partnering retailers), you can purchase a select number of items at her factory. Of course, I purchased a salted caramel sauce.
My husband gave the sauce a try without realizing it was of the salted variety and wasn't too pleased. Maybe that's like taking a drink of OJ when you think it's water. The taste just doesn't seem right!
But me, knowing what it was, LOVED it. In fact, I'm still loving it. I've been using just a little bit of the sauce (I'm savoring!) over vanilla ice cream. Words cannot describe…