on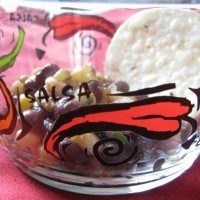 Salsa: the Spanish word for fresh or cooked sauce. By my definition, it means delicious dip.
Salsa is arguably one of the most popular of all appetizers, not to mention one of the easiest dips to make. Chop up your favorites and toss it in a bowl with seasonings and voila…a bowl of goodness.
Most of us are familiar with the tomato and pepper salsa served with tortilla chips at Mexican restaurants, but there's a whole world of salsas out there. Fruit salsas, veggie salsas, and then there's bean salsas, including this outstanding black bean, bacon, and corn salsa, a variation of which I first saw on The Homesick Texan.
Black Bean Salsa Ingredients
1 can black beans, rinsed
1 cup corn (either from a can or frozen and steamed)
½ onion, chopped (I prefer red onion)
½ cup cilantro, chopped
Juice of one small lime
1 garlic clove, minced
6 pieces cooked bacon, cooked and crumbled
Salt to taste
Directions
Cook the bacon. Let cool. Crumble. Combine all ingredients in a mixing bowl and stir. Be careful to stir gently as to not "mush" the black beans.  The bacon adds a welcomed crunch to the salsa as well as a salty flavor. Taste before adding too much salt. Delicious warm, but if you refrigerate for at least an hour the flavors will come together nicely.
Notes
Don't be afraid to add a Serrano or jalapeno pepper to bring the heat. I made this salsa for a party and wanted to avoid bringing anything too spicy, but I bet some spice would be good!