on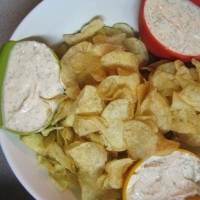 It doesn't matter who you root for. It matters what you feed your party guests. At least that's how it works in Saucy Dipper's house.
As you gear up for the Super Bowl (or any other football party), consider making a few party dips. Here are 12 of my favorite recipes, which also happen to be super easy to make.
1. Buffalo chicken dip – The one, the only…Buffalo chicken dip. You can't go wrong here.
2. Pineapple salsa – Of course your football party needs salsa, but no one said it had to be a basic tomato salsa. This recipe brings the heat.
3. Seven layer dip – Layered dips are a sure thing. They do require a little more prep than your average dip (Who's gonna chop all those chives and olives?), but it's worth it. Oh, and if you don't want a traditional Mexican-style dip, try this Mediterranean layered dip.
4. Beer Cheese Dip – This dip is fun, because you can change up the flavors so easily based on the type of beer you choose. I'm a lager drinker, so my dip didn't have too much punch, but imagine what you could do with a stout or an IPA?
5. Pizza dip – I made pizza dip in the slow cooker for a football party awhile back, and it was a huge hit. I can almost taste it now.
6. Velveeta cheese and salsa dip – Not every one believes in the power of Velveeta, but if you do, this one can't be beat.
7. Tapenade – Ok, so on one end you have Velveeta and on the other end you have tapenade. Maybe make both to please all the party goers.
8. Pimento cheese dip – Pimento dip is versatile. Try it on crackers. Try it on a sandwich. Whatever you do, just try it.
9. Traditional potato chip dip – Do not, I repeat, do not buy packaged potato chip dip. The stuff you make at home will taste great and you can minimize the calorie catastrophe happening at your football party (try yogurt instead of sour cream).
10. Bean dip – Any bean dip will do.