Posted by
Oct 29, 2013
in
Interview Series
|
4 comments
on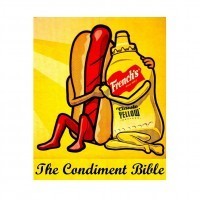 The Saucy Dipper is launching a brand new series of posts featuring one-on-one interviews with other sauce, dip, and condiment lovers. I couldn't think of a better person to start us off than Tommy Russ of The Condiment Bible. His blog is awesome and his condiment insights are right on, too.
Thanks, Tommy, for agreeing to speak with me!
How did you decide to write about condiments?
Back in college, I kept a list of condiments I loved to love and called it "The Condiment Bible" (TCB).  Friends would ask for BBQ sauce or honey mustard recommendations and I'd send them selections from TCB.
In the summer of 2010, I decided to try blogging about the world of condiments.
Where do you get your inspiration for new posts?
I follow a loose network of condiment- and sauce-related websites, Twitter handles, blogs, etc.  I also have Google Alerts set up for condiment-related keywords.  If I come across anything that speaks to my inner fat kid, it goes on The Condiment Bible.
Also, and most obviously, if I try something new and awesome (or old and awesome), I'm going to write about it.  I recently discovered a ridiculously good Walmart-branded mustard that inspired me to break a long streak of silence on TCB.
Worst condiment ever?
A certain vegetable-derived food paste from Britain comes to mind…
What sauce or dip will you always make homemade versus buy? And then vice versa – what sauce or dip are you better off buying?
I tend to think very specifically about condiments and specificity can be hard to recreate at home.  If I'm in the mood for steak sauce, I'm usually thinking about a specific brand (it's Peter Luger's, in case you're wondering).
I also think that we're in the golden age of condiments with respects to quality and availability.  You can't discount the convenience of being able to purchase a high-quality product.  Does homemade mayo taste better than store-bought?  Yup.  Do I have the time to whip up a batch every time I want mayo?  Nope.
That's not to say I'm against making homemade sauces.  On the contrary, I always have Ball jars of goodness stashed in my fridge and I frequently try new recipes for a wide variety of sauces and condiments.
Best party dip ever?
Store-bought:  Axelrod Onion Dip.  Hands down, it's the best onion dip you can buy.
Homemade:  I have a recipe for taco dip that has made grown men weak in the knees.
What would you like to see food brands and PR companies do differently in how they work with bloggers?
I would definitely like to see more collaboration between food brands and their PR companies and food bloggers.  It's labor-intensive to keep tabs on condiment trends and news; it would be great if more stories/items were forwarded to me, rather than me searching them out.
Also, more free samples.  I realize that's a no-brainer, but you'd be surprised how unresponsive many companies are to small sample requests.  There are thousands of brands of every condiment available; sites like The Condiment Bible help people discriminate between the good and the bad…and even worse, the mediocre.
What do you want the world to know about condiments?
I subscribe to two life philosophies.  First, if it's worth doing, it's worth OVERdoing.  Second, all food is a vehicle for a condiment.  Combine the two, never stop searching for the delicious and don't be afraid to take a nip from the bottle every now and then.
***
Stay tuned for more interviews here on the Saucy Dipper. And, hey, if you're a condiment lover and want to share your views, let me know. We'd love to interview you.