Posted by
Jan 1, 2014
in
Dip Recipes, Spreads
|
4 comments
on
I got started a little early on my 31 day cooking challenge, and I'm glad I did because my first recipe became a PROCESS. Turns out there's a few things you need to know about making your own homemade ketchup, including these three tips:
Ketchup making tip #1. Take time to experiment. My first attempt at ketchup turned out meh. It took a lot of ingredient experimentation to get the right flavor.
Ketchup making tip #2. Do not fear the salt and vinegar. You'll probably want to use more than you think you should.
Ketchup making tip #3. Stick with quality tomato paste. I used the generic paste I had on hand, and I never could get the overpowering flavor of tomato paste out of my mouth (or maybe it was in my head). Either way, don't skimp here.
Here's my recipe. It is an approximation. Remember that I did a bunch of experimentation!

Homemade Ketchup
1 small yellow onion, roughly chopped
4 garlic cloves, roughly chopped
1 tbsp. olive oil
2, 6 oz cans of tomato paste (high quality)
⅔ c. water
¾ c. vinegar (I used white wine vinegar, but other recipes call for ordinary white or cider)
½ c. brown sugar
2 tsp. ground mustard
1 tbsp. coriander seeds
4 tsp. paprika
3 tsp. salt
2 tsp. fresh pepper
Heat olive oil over medium heat.
Saute onion and garlic until soft.
Blend all ingredients in blender.
Adjust seasonings and vinegar to taste.
Chill for at least 24 hours.
Enjoy!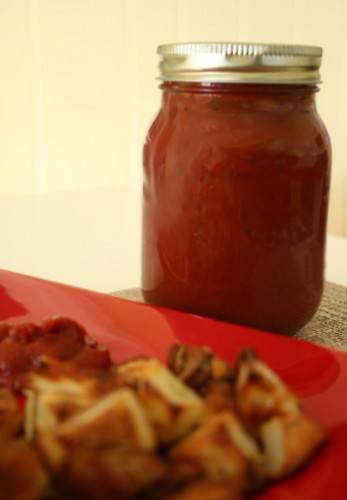 Have you made your own ketchup? What are your tricks?
One last thing, I'll be posting about my 31 Day Challenge once a week through January, so check back next Wednesday for an update on all I've created. Or you can follow me on Facebook, Twitter, and Instagram to see what I'm doing daily. Follow the hashtag #31daycooks. Or or…even better…join in on the fun. I'd love to have you cook alongside with me all through January!