on
In an ideal world your toddler would eat what you eat for dinner. I make a nice roasted chicken thinking, "yea, she'll love this." But nope. Rarely does our two year old Maggie even consider eating what we're eating.
It's more likely that we'll eat what she WANTS, which is, you can probably guess, something like macaroni and cheese or fish sticks. To make myself feel better I'll throw in a homemade sauce and a side salad.
On this particular day I opted for a homemade tartar sauce. Another easy, versatile dipping sauce you can throw together on a moment's notice. If you've got mayo, pickle relish, and an imagination, you've got all you need.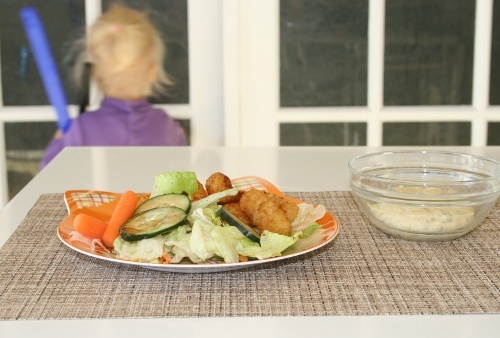 Tartar Sauce Recipe
1/2 c. mayonnaise
3 tbsp. pickle relish
1 tbsp. pickle juice
1 tsp. garlic powder
1 tsp. paprika
Instructions: Combine all the ingredients, chill, and enjoy!
Notes: You can find tartar sauce recipes that call for a wide range of ingredients — mustard, vinegar, lemon juice, minced onion, and more. I think it's really about personal preference and what you have on hand. It's all good!
***
Here's an update on my #31daycooks cooking challenge. A little more than a week left.
Day 15: Spicy shrimp with Epicurean's Chipotle Butter
Day 16: Missed a day! Slacker.
Day 17: Carrot and applesauce muffins. Maggie ate 2!
Day 18: Granola. Delicious, but be careful not to over bake.
Day 19: At the Fancy Food Show! No cooking for me.
Day 20: At the Fancy Food Show! No cooking for me.
Day 21: Tartar sauce. So easy and so tasty.
***