Posted by
May 7, 2014
in
Sauce Recipes
|
2 comments
on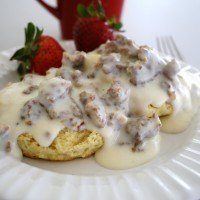 Warning
: Division by zero in
/srv/users/serverpilot/apps/saucydipper/public/wp-content/themes/CherryTruffle/functions.php
on line
2
Warning
: mysqli_num_fields() expects parameter 1 to be mysqli_result, bool given in
/srv/users/serverpilot/apps/saucydipper/public/wp-includes/wp-db.php
on line
3353
Warning
: Division by zero in
/srv/users/serverpilot/apps/saucydipper/public/wp-content/themes/CherryTruffle/functions.php
on line
2
Warning
: mysqli_num_fields() expects parameter 1 to be mysqli_result, bool given in
/srv/users/serverpilot/apps/saucydipper/public/wp-includes/wp-db.php
on line
3353
Warning
: Division by zero in
/srv/users/serverpilot/apps/saucydipper/public/wp-content/themes/CherryTruffle/functions.php
on line
2
Warning
: mysqli_num_fields() expects parameter 1 to be mysqli_result, bool given in
/srv/users/serverpilot/apps/saucydipper/public/wp-includes/wp-db.php
on line
3353
Growing up I didn't care for gravy. At holiday meals I'd pass that boat and opt for ketchup instead (yes, ketchup on turkey AND ham). It was the consistency, the color, and the idea that gravy was a result of all the leftover bits that would otherwise go in the trash.
Now, decades later, I've realized my distaste is unfounded. Maybe those insta-gravy mixes should be outlawed, but a fresh home made gravy is delicious and it should be slathered on many different things…especially biscuits. So, one Saturday morning recently, that's what I did. 
This recipe was inspired by a September 2011 Bon Appetit recipe and I highly recommend it if you prefer a thicker sauce with less emphasis on the pan drippings. 

An Easy Sausage Gravy Recipe
1 lb. breakfast sausage
½ c. unsalted butter
½ c. all-purpose flour
5 cups whole milk
½ t. crushed red pepper flakes
½ t. salt
Cook sausage in skillet over medium heat, about 10 minutes.
Once cooked through remove sausage and let rest on paper-towel lined plate (leave as much grease in the pan as you can).
Melt butter in pan.
Add flour to pan and stir for two minutes.
Turn up heat, slowly pour in milk, bring to boil. Be sure to whisk all the while--about 10 minutes.
Return sausage to mixture.
Add red pepper flakes and salt.
Serve over biscuits!