on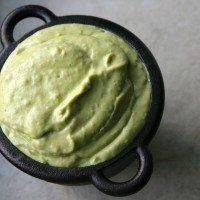 Warning
: Division by zero in
/srv/users/serverpilot/apps/saucydipper/public/wp-content/themes/CherryTruffle/functions.php
on line
2
Warning
: Division by zero in
/srv/users/serverpilot/apps/saucydipper/public/wp-content/themes/CherryTruffle/functions.php
on line
2
Warning
: Division by zero in
/srv/users/serverpilot/apps/saucydipper/public/wp-content/themes/CherryTruffle/functions.php
on line
2
Ever had a hankering for something that you just can't seem to satiate? That's been me lately with avocados. Given the  obsession, an ordinary guacamole wouldn't do. Nope, not at all.
I wandered the produce aisle and came up with this guacamole concoction instead. It might just be the best one I've made to date. And the best part? It's been 24 hours and the guac still hasn't browned. I'll thank the food processor for effectively distributing those acids and keeping my guac bright green.
Guacamole with Tomatillo and Tomato
2 large tomatillos
2 ripe avocados, peeled and de-seeded
1 small Roma tomato
1 small jalapeno, de-seeded
⅓ c. sour cream
handful of fresh cilantro (no stems)
2 tsp. salt
2 tsp. cumin
juice of 1 lime
Chop tomatillos in ¼ inch pieces and place in sauce pan with just enough water to cover the fruit. Bring to a boil and let simmer for no more than 5 minutes.
Meanwhile, throw all remaining ingredients in food processor.
Spoon the cooked tomatillos into the food processor with the other ingredients.
Blend until smooth.
Chill for at least one hour before munching.
Enjoy!