My friend Nina is a constant Saucy Dipper supporter and a true source of blog post inspiration. Even all the way in Paris she found out about a new US company that provides a monthly condiment subscription for those…well, for those who are just like me and love sauces and dips like no other. The company is Ship & Dip, and the story, the founders, and the products they feature couldn't be more clever.
If you love condiments, you better keep reading because things are about to get good!
Ship & Dip got its start in late 2013 after sisters Kristen & Katelin Karlin couldn't find a hummus-of-the-month club for their dad's 61st birthday. Instead of letting go of the idea, they decided to create their own monthly subscription that focuses on more than just hummus, but shelf-stable sauces, dips, and spreads that you may not be able to find in your local grocery.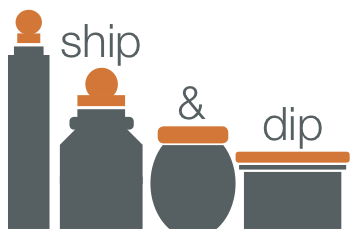 It's not about what's popular.
That's the key to Ship & Dip. It's not about what's selling by the truckload. It's about artisan condiments produced by smaller companies with a true passion for their product…like Garlic Mustard Vinaigrette by Carly's Gold, Ms. Mango by Southern Belles Gourmet BBQ, and Sea Salt Caramel with White Chocolate by Izzybelle Chocolate Sauce pictured above.
Kristen and Katelin were kind enough to send me the May box and give me a few minutes to ask some of my burning condiment questions, and I'm so glad they did. I am now a Ship & Dip customer and will recommend all of my food clients submit a product to their tasting committee, not just for the chance to be featured in one of the monthly boxes but also to get some feedback from these brilliant gals.
How the sauces are chosen.
First up, I asked how they decide on the products to feature, which they explained is decided by a tasting team of friends and family. At first they looked at award-winning products, but now producers are finding Ship & Dip. In fact, many of the featured producers are recommending their friends.
"We love the community these food producers have together," they both explained.
The tasting team rates each product on a scale of 1 to 5. There is a threshold of 3.5 to be considered. Everyone that submits a product does get the ratings and feedback. It's a very transparent process.
What you can expect from Ship & Dip in the future.
The team plans to roll out more customize-able boxes in the future to accommodate dietary needs or special gifts. That's still a couple years down the road, but stay tuned.
What condiment should always be home made?
Whenever I interview a fellow condiment lover I always ask this question. While some things are excellent in a jar, there's no denying the powers of your own kitchen!
Kristen said she'd much prefer to make her own guacamole. "I have never had a store bought guacamole that I liked even a little bit. I don't know why someone hasn't perfected it!"
And Katelin voted for salad dressing, especially if making one at home means bypassing all the chemicals you often find at the store.
A special Saucy Dipper offer.
There are a variety of ways you can purchase products from Ship & Dip. There is the legendary monthly subscription where you get three new items each month, but you can also buy in varying quantities and frequencies. All of this info is on their website – ShipandDip.com.
Ship & Dip has been incredibly generous in offering a $5 credit toward your first purchase. Just be sure to use the code 

SAUCYDIPPER5

at checkout and be sure to order before July 31, 2014.
Disclosure: I am not affiliated with Ship & Dip. While I did receive a box of three sauces for free, I was not otherwise compensated for this review. The opinions here are my own.