on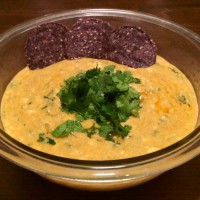 I can't get enough green chilies! This dip is a party favorite, and a nice twist on the classic queso dip for all of you green chili lovers. This warm recipe is great for fall and winter. 
Green Chili Queso Dip Recipe
3 large green chilies
½ lb American cheese
½ lb Monterey Jack
2 tsp corn starch
1 tbsp olive oil
8 oz minced tomatoes
1 tsp fresh garlic (minced)
½ tsp ground cumin
½ tsp chili powder
¼ tsp cayenne pepper
5 oz evaporated milk
8 oz minced tomatoes
3 tbsps fresh cilantro (finely chopped)
2 tbsps scallions (finely chopped)
½ tsp salt (to taste)
Chop green chilies
Cut American and Monterrey Jack cheeses into cubes and mix together with cornstarch in small bowl.
In a medium saucepan, heat olive oil on medium heat.
Add in tomatoes, garlic, cumin, chili powder, and cayenne pepper to pan. Cook for about a minute.
Slowly stir in evaporated milk and green chilies and bring to a boil.
Reduce heat to low and slowly stir in the cheese and corn starch mixture. Stir until the cheese is melted completely.
Add the scallions and cilantro on top for garnish.
Serve immediately with corn chips, vegetables, or bread.