on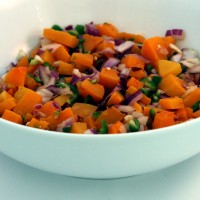 I've written a bit about salsas, and butternut squash, too. But never would I have thought about combining the two. That is until I visited Tocabe: A Native American Eatery here in Denver.
My lunch was at the Greenwood Village location, which I enjoyed a couple months back with a few food blogging friends. I highly recommend you visit if you can.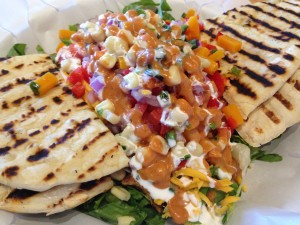 I also highly recommend you try their salsas, including their seasonal spicy butternut squash salsa (pictured here atop the Grilled Bannock). I liked the salsa so much I took a note from their book and tried to recreate it at home.

A Native-Inspired Butternut Squash Salsa
2 T butter
meat of 1 small butternut squash
1 small red onion
2 serrano peppers
juice of 1 lemon
salt and pepper
Preheat oven to 350 F.
Chop all ingredients.
Roast chopped squash in butter for 20 minutes or until soft.
Toss squash and all remaining ingredients in a bowl.
Chill for one hour.
Enjoy!
I enjoyed my batch of spicy butternut squash salsa a few ways. First, with pretzel chips. Then, with roasted chicken and black beans. Last, with a spoon.
This is such a nice treat in the dead of winter when I'm drowning in soup and coffee. Love a colorful salsa anyway, but the surprise taste of that butternut squash makes this a five-star recipe.