on
Sure, you think of sauces and dips and you think of a marinara sauce and a seven-layer dip, but that's not what it has to mean all the time. At least it doesn't to me, as evident in one of the items featured at my personal Dipstock "dip off" party last weekend.
I decided to take saucing and dipping one step further with a little bit of Mexican beer (sauce) and a couple of spicy combinations for the rim (I had to dip the glass to line the rim).
This first beer I like to call Hot Lemon.
1. Use a lemon wedge to dampen rim of glass
2. Dip the glass in a combination of sugar and paprika (two parts sugar, one part paprika)
3. Pour Corona into glass and squeeze lemon juice into beer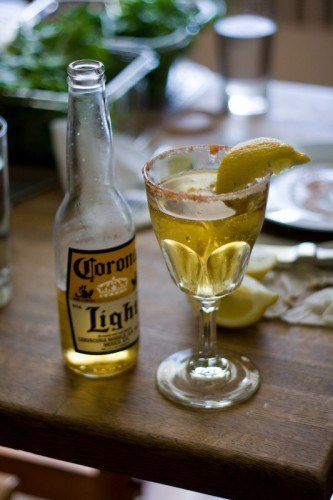 Next up, Spicy Cowboy Beer.
1. Dampen the rim of the glass with a lime wedge
2. Dip the glass in coarse salt (I used David's kosher salt)
3. Add a few drops of Worcestershire sauce
4. Add a few more drops of hot sauce (Tabasco will work, but I used homemade chili sauce)
5. Pour Corona – or another Mexican-style beer – into glass and squeeze the remainder of lime juice into beer

ps – Like dipping your beer? These Saucy Dipping beers were inspired by a Shipyard Ale I drank awhile back. I coated the rim of the glass with sugar, cinnamon, and nutmeg. See the picture here > Dip Your Beer