Posted by
Jul 2, 2010
in
Dip Recipes, Dipstock
|
6 comments
on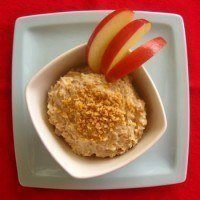 Caponata, peanut dip, edamame dip, and cilantro cream dip have Dipstock in common. All four of these dips were entered into the festivities by other food bloggers.  Check em' out!
More than a Mountful made Caponata (Chef Dennis compares this to a Sicilian salsa)
Sweet and Saucy made Peanut Dip (pictured here)
My Morning Chocolate made Edamame Dip
The Vegetarian Environmentalist made Cilantro Cream Dip
If you participate in Dipstock before July 5, you'll receive a PDF cookbook containing these recipes plus all the other recipes entered into the event. It's easy to play – just share your recipe on the Saucy Dipper Facebook Group or on the Dipstock page.