on
Ahhhh, summer holidays.  The best part is always the food. At least the dips and sauces make the event for me anyway.
This morning I decided to start the weekend off right by making a saucy blueberry breakfast. What better way to say "I love you America" than with pancakes, blueberry sauce, strawberries, and whipped cream?
As you might know, I'm a novice sauce maker. The idea of making a blueberry sauce seemed a bit daunting, but never fear. Turns out blueberry sauce is incredibly easy to make.
Blueberry Sauce Recipe
2 c. fresh blueberries
1/3 c. sugar
1 tbsp. lemon juice
1/4 tsp. salt
1/2 tsp. vanilla extract
Directions: Wash and crush the blueberries. Add sugar, lemon juice, salt, and mix well. Place mixture in a small sauce pan. Bring to a boil and boil for one minute. Turn off heat. Add the vanilla. Stir, chill, and serve.
Seeing how this was my first blueberry sauce attempt, I didn't know how to crush the blueberries exactly. I decided to keep it simple and just use a large spoon to squish up the berries in a mixing bowl. Super high tech, I know.
Here's what the berries looked like once I was done crushing.
At this point, I still couldn't visualize how a sauce would come from this. Had you asked me before I read a few different recipes I would've told you that you needed to add water or some other kind of thickening agent, but nope. Within one minute the blueberries, sugar, etc. came together to form the perfect gooey blueberry sauce. I was amazed and my taste buds began to itch.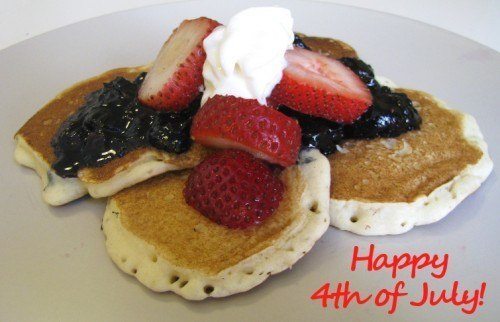 This is my last post covering Dipstock, but you have through tomorrow to participate. If you make a sauce or dip for the 4th of July festivities, just share your recipe and pictures on the Saucy Dipper Facebook Group or on the Dipstock page.