When you tell someone that you will be visiting New York City, you can count on hearing this:
"Oh, I know this great restaurant in [enter Manhattan neighborhood name here]. You have to go. They have the best [name a comfort food or obscure type of fusion here] and the best [cocktail type here] I've ever had."
Jason (my husband) and I travel in a way that's not-so-ordinary. Our jobs allow us to work from anywhere, which means we've been fortunate enough to work from Asia, Central America, and even New York City. Whenever we mention to a friend or fellow traveler that we'll be spending time in NYC, we almost always hear about their favorite restaurant or bar or chef or street food.
At first, I kept a list of all the restaurants recommended to us, but it became overwhelming. There are over 20,000 restaurants in NYC and of that number I'd guess and say that 65% are worth trying and 40% of those fit in our budget. That leaves 4,800 restaurants that I need to eat at and you want me to eat at that ONE place in SoHo that serves the best coconut martini of your life?
Well, ya. They do mean it, and so do I. The following is a list of some of my favorite places to sauce and dip in NYC. I hope you get a chance to eat Saucy Dipper style the next time you're in town.
*****
Bar 89 in Soho really does serve the best coconut martini I've ever tasted. They also have dozens of other delicious, colorful cocktails.
The Coffee Shop in Union Square has a swervy-shaped bar and the perfect patio for people watching. I'm delightfully surprised by the Latin-inspired brunch, too.
The Meatball Shop on the Lower East Side has all varieties of meatball and accompanying SAUCE. You see spicy pork meatballs covered in creamy Parmesan sauce here. In addition to this dish, I'd definitely recommend the beef meatball with tomato sauce hero. You'll love it. I promise.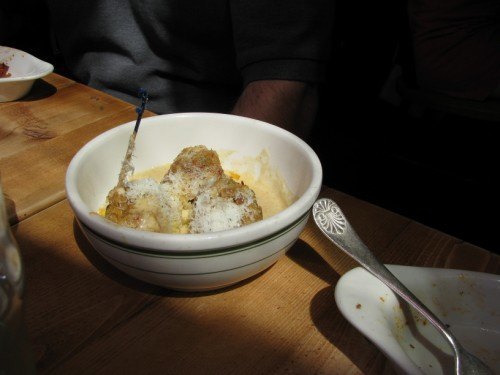 Soup dumplings and dandan noodles from Chelsea's International Grand Sichuan are a must.
Pomme Frites just might be my favorite East Village restaurant. Dozens of DIPPING SAUCES? Belgian fries? I'm in heaven. Here you see the especial sauce (with onions), curry ketchup, smoked eggplant mayo, and wasabi mayo. The especial reminded me of salsa rosa, but eggplant mayo was the best of the four dipping sauces, hands down.
Ever heard of S'Mac? Also in the East Village, this macaroni and cheese specialty restaurant is usually packed full around dinner time. Plan on sharing…it's rich!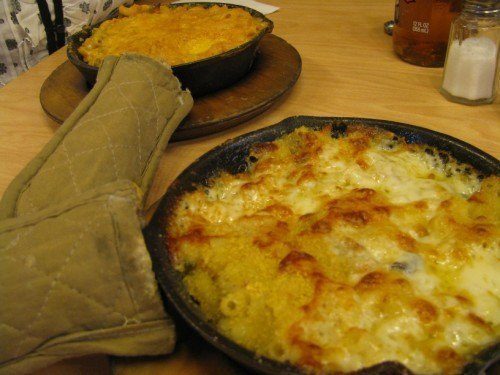 Calle Ocho on the Upper West Side has a fab brunch (sangria bar, anyone?). They also offer up delicious bread and black bean dip before dinner. Makes the trip uptown worth your while.
Forgive the horrible cell phone photos here, but hopefully can see that these are artichoke pakoras and eggplant chili coconut sauce. You can find these at Vermilion in Midtown.
Do you have any favorite New York City restaurant sauces or dips? Please share!