on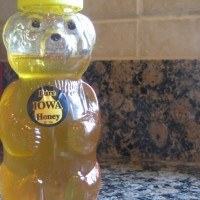 I recently visited family in Iowa and forced them to endure my Saucy Dippiness. I don't think they minded, though. At least I saw them take seconds and willingly take leftovers home, which leads me to believe they enjoyed themselves.
But then again, my mom and nephew did a lot of the cooking, so they probably weren't as scared as they could've been.
Three things made this day a special Iowa experience. First, the local honey you see pictured here. Second, my mom made her awesome "killer rolls" (talk more about those another day). Third …Velveeta.
I've lived in a few places and traveled to a few more, and no one (seriously, no one) enjoys Velveeta as much as Iowans. Don't knock it until you've tried it with salsa.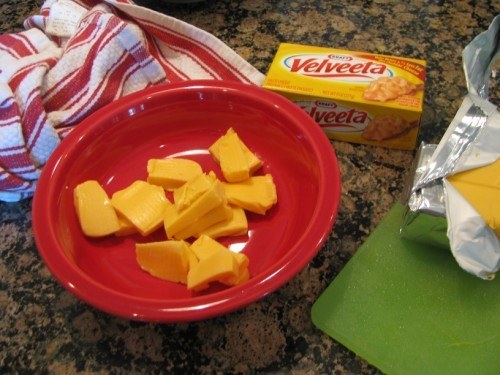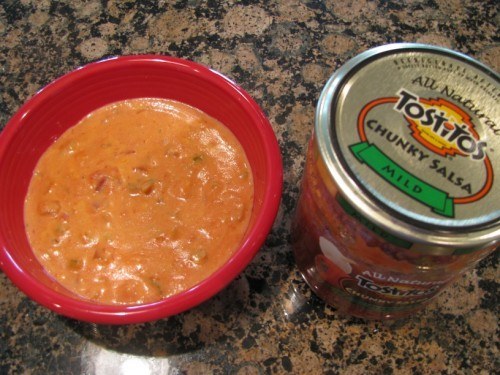 Tostitos, you know I love you.
The Velvety Salsa Dip is super to simple make.
1/2 jar of Tostitos salsa
4 oz. of Velveeta, cut in small cubes
Microwave for 2 minutes, stir, and serve.
*********
This is a favorite snack with my family, probably because its easy to make and partly because it goes well with margaritas. What, you don't think Iowans know how to have fun?
On this day I made the Velveeta salsa combo because it sounded good and because I wanted to compare it to a second Mexican dip. I had a small hunch that the "fake food" would taste better, but I was wrong. The real stuff won the competition, hands down. I also remember why I swore off fake cheese for a decade. (It's a long story, but the cheese fries at Yankee Stadium will make a (wo)man out of you.)
If you want a yummy Mexican dip and have the time and budget to get it done, then I recommend this cheesy dip instead.
Chicken Enchilada Dip from Simply Delicious Magazine
Ingredients
* 2 cups shredded cooked chicken
* 1 can (10-3/4 ounces) condensed cream of chicken soup, undiluted
* 1 cup (4 ounces) shredded cheddar cheese
* 1 can (5 ounces) evaporated milk
* 1/2 cup chopped celery
* 1/3 cup finely chopped onion
* 1 can (4 ounces) chopped green chilies
* 1 envelope taco seasoning
* Tortilla chips
Directions: In a 2-qt. microwave-safe dish, combine the first eight ingredients. Microwave, uncovered, on high for 4-5 minutes; stir. Microwave, uncovered, 3-4 minutes longer or until heated through. Serve with tortilla chips. Yield: 3 cups.
*******
As I've found with all spicy dip recipes that I've tried, the recipe doesn't call for enough green chilies. I'd vote for two cans or maybe even three cans of green chilies if you're feeling crazy.
We purchased a roasted chicken from the grocery store and took from the chicken breast. All in all, I'd say this Chicken Enchilada Dip was a success and definitely recommend it to those who like Mexican cuisine.
We ended the dip adventure with fruit kabobs and a honey yogurt dip/sauce you see here. Check back on Thursday to learn about that one (prize-winning taste, "interesting consistency").