on
In my last post I talked about a couple of the Iowa-themed dips that I made with my family last week. You see, I grew up in Iowa, but now call Denver home. During a quick trip in Iowa I subjected my family to my dippy ways.  Anyway…that's not the point.
The point is that we made a couple of successful cheesy Mexican dips and one not-so-successful yogurt dip, as you'll see here. You'll also see how ANOTHER one of my sweet dips failed a couple weeks back.
I think I'm destined to be a savory dip maker…
Failed Sweet Dip Recipe #1: Fruit Kabob with Dip from Taste of Home's Quick Cooking Magazine
Ingredients:
*Assorted fruit – green grapes, watermelon balls, cantaloupe balls, blackberries, and strawberry halves
*1 cup (8 ounces) plain yogurt
*½ medium ripe banana
*4 tsp honey
*1/8 tsp ground cinnamon
Directions: Thread assorted fruit (not banana) alternately on skewers. In a blender, combine remaining ingredients, cover and process until smooth. Yield: 1-1/2 cups.
******
Turns out this is really just an unsweetened sauce. We pulled the recipe from the Taste of Home magazine, but just today when I tried to find the recipe online I didn't have any luck. Maybe the ratings were too poor and they yanked it. (That's an uneducated guess, by the way.)
We tried to improve the yogurt dip by adding 8 ounces of cream cheese to the mixture, more honey, and four packets of Sun Crystal all natural sweetener. The flavor improved, but we still had a runny mess on our hands (literally).
Oh, and one quick comment on the cinnamon. It was just too much. Everyone at the table agreed that the cinnamon overpowered the other flavors.
While the recipe didn't work well as a dip for the fruit kabobs, you might like it as a sauce. We tried it over a bowl of fruit and over angel food cake, which was an improvement overall. Sometimes sauce and dip success comes when you set your expectations in the right place.
But not all dips can be rescued by a change in expectations. Some sweet dips are just plain disappointments. For example, I tried to make a chocolate chip dip for the July Dipstock and, man, was it ever a failure. If I had just followed a recipe like the one from "Confessions of a Cookbook Queen," then I probably would have been fine. But no, I had to get creative and try to make my own recipe.
****
Failed Sweet Dip Recipe #2: Sara's Chocolate Chip Dip Recipe
*1 packet of vanilla pudding (and your choice of milk, follow directions on the box)
*1/2 pint of heavy whipping cream (for whipped cream)
*4 oz. cream cheese
*2 tbsp. confectioners sugar (if you want it real sweet)
*1 tsp. vanilla extract
First, I made the pudding. I haven't made pudding since I was a kid. And based on how I did, I should've known to stop right then.
Gross.
I did manage to save a little bit of the vanilla pudding from the burnt nastiness (fortunately, I waited until the very end to burn the bottom) and set it aside in the fridge to cool. From here, I whipped the cream by hand, which turned out to be much easier than I imagined.
All you have to do is chill a stainless steel bowl in the freezer for ten minutes. Remove the bowl, pour in the cream, and use a whisk to sharply beat the cream. After two minutes the bubbles became visible and after another three minutes things started to take shape.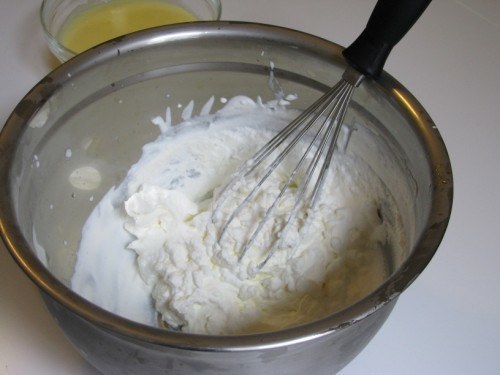 Once the cream was fully whipped and my vanilla pudding had cooled, I combined the two and added the cream cheese. Everything mixed together quite well, so I went for the chocolate chips.
In case you haven't heard, we're in a freaking heat wave! It just won't stop. Even the chocolate chips suffer.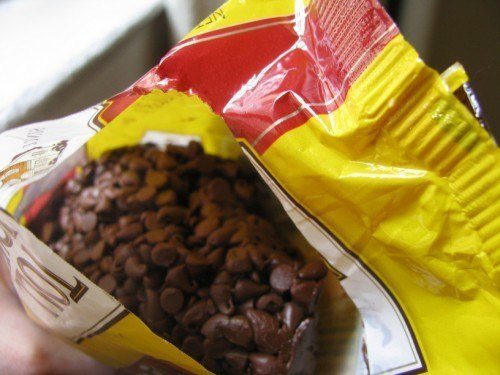 I persevered. Instead of "chocolate chip dip" I made"chocolate chunk dip." I mixed in the chunks and dipped with graham crackers. It tasted excellent, and it took serious self control to stop eating the dip before the party started.
If only I knew what would happen next…
Three hours later when I pulled the dip from the refrigerator and prepared to serve, I was horrified by what I found. The dip had gone from smooth, sweet goodness to something grainy and lumpy. Who knew that whipped cream would separate so quick! Whipped cream can be so ugly…
[Imagine a picture of lumpy chocolate chip chunk dip here.
No picture was taken due to my extreme irritation.]
After consulting the husband and after a little Internet research, I now know how to avoid this predicament. Just add 1/2 teaspoon of cornstarch to the whipped cream to stabilize.
Maybe next time.