on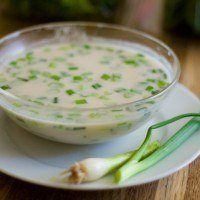 I'm not talking about dips made with tofutti instead of cream cheese. No dairy substitutes, no butter, and no milk or cream found here. These are just straight up dairy-free sauces and dips.
Dairy-Free Dips
1. Baba ganoush
3. Salsa (all variations including salsa de sofrito)
4. Hummus
5. Crab dip (made with mayo)
6. Guacamole
7. Eggplant Caponata
8. Spicy citrus dip (essentially marmalade with spices)
9. White bean and artichoke dip
10. Lentil and split pea dip
11. Red pepper dip (There are two variations I like; one made with chickpeas and one made with walnuts.)
12. Cannellini bean dip (made with olive oil, cilantro, and various seasonings)
The items that followed are technically spreads, but I say dip 'em if you want to.
13. Artichoke pate
14. Pumpkin butter
15. Bulgarian bread spread
16. Nut pate
17. Nut butter
18. Chutney
19. Olive tapenade
Dairy-Free Sauce

20. Aioli (similar to mayo but made with olive oil instead of vegetable oil)
21. Vinaigrette
22. Italian dressing (obviously, not the creamy kind)
23. Honey mustard (remember…mayo is not dairy!)
24. Russian dressing
25. Asian sesame dressing
26. Dijon honey dressing
27. Mexican green chili
28. Barbecue sauce
29. Blueberry sauce (any fruit sauce for that matter)
31. Honey
33. Marinara sauce
34. Pesto (omit the cheese)
34. Peanut sauce
35. Coconut sauce (all variations including coconut scallion, coconut curry, etc.)
****
ps – What am I missing? Certainly there are more dairy-free dips and sauces I haven't mentioned.
pps – Some of these items are linked to Saucy Dipper recipes. As I try new dairy-free dips and sauces I'll update this page with more links. Keep this list of dairy-free dips and sauces bookmarked and check back often for those updates!
ppps – A big thanks to my friend Chung for sharing her pic of coconut scallion sauce 🙂