on
Based on this picture you can probably guess that I made a Middle Eastern-themed meal big enough for 12 people, not two. I spent three hours in the kitchen cooking up hummus, baba ganoush, tzatziki sauce, falafal, and moussaka (with béchamel sauce).
My motivation for making this feast came in part from my urge to use my new immersion blender, part because I wanted to make one of the five mother sauces, and part because I've come across several eggplant recipes lately. Despite not liking eggplant in the past, I felt I needed to try again. Our tastes do change, and I figured now that I'm all of 31-years-old I needed to see if my tastes had matured.
Turns out I'm not that grown up yet.
Eggplant is still not my thing (although spicy eggplant sauce from Pomme Frites might be the one exception). Is it the texture I don't like? Maybe eggplant is just a little too bitter? Whatever the reason, I can't recommend it, but I will share these eggplant recipes and my first béchamel sauce making experience anyway.
Stage One – Baba Ghanoush
Baba ghanoush is essentially an eggplant dip. It's commonly eaten throughout the Middle East, especially in Egypt (so I've read, never been). I started off by studying a baba ghanoush recipe from David Lebovitz, but cut the recipe in 1/3 and simplified it.
Baba ghanoush ingredients:
*1 eggplant
*2 tbsp tahini
*1/4 tsp coarse salt
*1 tbsp freshly-squeezed lemon juice
*1 cloves garlic, peeled and smashed
*1/8 teaspoon chile powder
*1 tsp olive oil
*1/4 bunch picked flat-leaf parsley or cilantro leaves
Directions: Preheat the oven to 375°F and poke holes in the eggplant with a fork. Place it on a baking sheet and roast in oven for 30 to 40 minutes. Remove from oven and let cool. I placed my eggplant in cool water to speed up the process. Once cool enough to touch I opened the eggplant and scraped out the pulp and put all ingredients in the bowl. I went light on the lemon juice and salt, since I have taste sensitivity to both flavors (too much is just too much). Puree the pulp with your immersion blender and keep seasoning to taste. Best if chilled for a few hours before eating.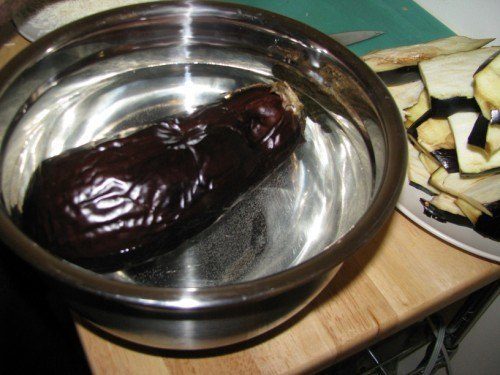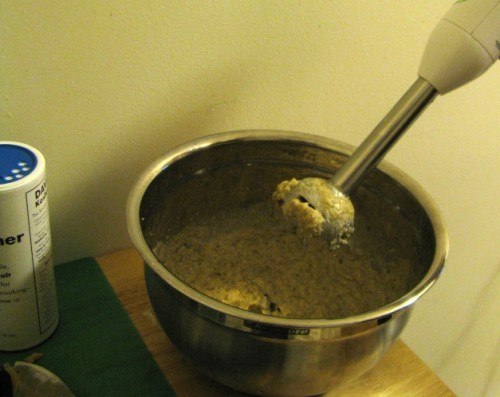 I know what you're thinking…Sara's photography skills are horrible (that's pronounced with a French accent). I'm working on it, alright. Geeesh.
Stage Two – Moussaka with Béchamel Sauce
Moussaka is commonly eaten in the Mediterranean and Middle East. I found several variations of the dish, but it's safe to say that Moussaka almost always includes eggplant and ground beef. The ingredients are layered and the dish needs to rest after it cooks for awhile, just like a lasagna. I followed an Epicurious recipe, but I also like The Mom Chef's version of Moussaka (it's her mom's original recipe, awwww).
Moussaka ingredients:
* 1/4 cup olive oil
* 2 pounds ground beef
* 1 small onion, chopped
* 1 15-ounce can tomato sauce
* 3/4 cup dry red wine
* 2 tbsp fresh parsley, chopped
* 1 tsp dried oregano, crumbled
* 1/4 tsp ground cinnamon
* 1 large eggplant (about 1 1/2 pounds), peeled, sliced into thin rounds (I sliced long ways and did not peel the eggplant)
Ingredients for bechamel sauce
* 1/4 cup (1/2 stick) butter
* 1/4 cup all purpose flour
* 2 cups milk
* 3 eggs
* 1 cup grated Parmesan cheese
Directions: Start by warming up oil in saucepan and adding beef and onion. Cook over high for about 15 minutes and then throw in tomato sauce, red wine, and spices. Simmer for 20 minutes or until the mixture thickens. Preheat the oven to 350°F.
How to Make the Béchamel Sauce
1.    Melt butter in pan over medium-low heat
2.    Slowly add flour while stirring and continue to stir for at least one minute (maybe longer) until the mixture has a nice floury aroma
3.    Slowly add milk and continue mixing all the while
4.    Turn the heat up a smidge to bring the mixture to a boil and keep stirring! (about another 2 minutes)
5.    Beat the eggs in a separate bowl
6.    Add a spoonful or two of the milk mixture into the bowl with the eggs and mix (this brings up the temperature of the eggs, so that it's not a total shock when the two combine)
7.    Pour the egg mixture into the milk mixture and bring to boil whisking all the while
8.    Remove from heat and stir in cheese and salt and pepper to taste
Now that the sauce is ready and the oven is pre-heated, butter the baking dish and place half the eggplant slices on the bottom. Spread meat over the eggplant. Add another layer of eggplant. Pour the béchamel sauce over the top. Sprinkle cheese and cover with foil before baking for 60 minutes. Remove foil and bake until it bubbles on the edges (just a few minutes). Cool, then serve.
You gotta whisk fast!
Not as smooth and creamy as it's supposed to be, but for a first try at béchamel it wasn't so bad.
All in all it was a good meal, but I have to say that it was the hummus and tzatziki sauce that did it for me. I'll share those recipes next time.