Every year since 1982 the Great American Beer Festival has given Coloradoans and visitors a chance to sample thousands of brews.  I was lucky enough to attend a few years back, and I sampled my fair share. I also stood in the friggin' long lines for the bathroom. You know you'll be drinking great beer, but nothing prepares you for that sea of port-o-potties.

To help get this year's party started, my husband, Jason, created a cool "Colorado – The Beer Me State" infographic. He's pretty smaht when it comes to online biz. He created the Saucy Dipper site, and he helps other bloggers and businesses develop and promote their websites.
Man, all this typing is making me thirsty. Is it okay for me to say "beer me" now?
In honor of the Great American Beer Fest and this groovy graphic, I made a spicy beer dip. But first, I want to show you a picture and then promise to never show it to you again.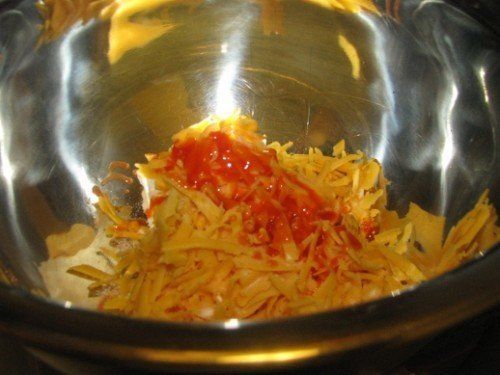 I've made my fair share of cheesy dips. (If you're new here, you can read how I made a cheese ball). At the start of the cheese-dip making process the bowl almost ALWAYS looks the same way. I can't tell you how many times I've taken a photo of this scene only to think … "That is one ugly picture."
I promise never to show you that picture again, at least not without good reason. Now, I want to tell you how to make this…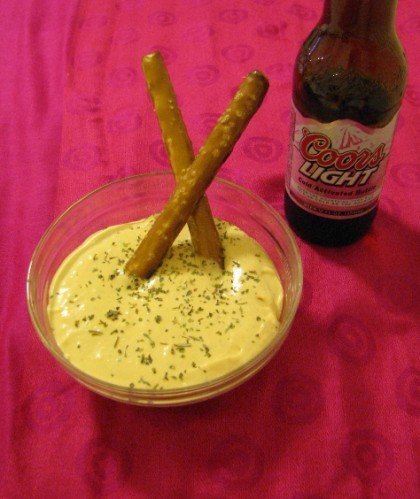 Yes, you are looking at a bottle of Colorado's finest — Coor's Light — and two giant pretzels that I strategically placed to look like skis stuck in the snow. You know, like this…
We are celebrating Colorado after all.
Ingredients:
*8 oz. reduced fat cream cheese
*2 cups extra sharp cheddar cheese
*2 tsp. Dijon mustard
*3 tsp. hot sauce
*1 tbsp. Italian seasoning
*1/4 tsp. salt
*1/4 cup beer
Directions: Combine all ingredients except the beer and blend until smooth. (Food processor is probably easier, but I used my hand blender. It was messy!) Add beer and blend again until you have the perfect consistency.
Notes: I used Coors Light, but I know that a lot of beer lovers will argue that I made the WRONG choice, and that I should've opted for a more flavorful beer. Maybe next time. Also, I used more than 2 teaspoons of Dijon mustard. I thought that more would mean better, but that's actually not the case. A little Dijon will go a long way.
PS – You can post the Colorado beer infographic to your blog!  Just visit Spork Marketing's Colorado beer facts page for the details.