on
Today, we have a special (and sweet) treat from Jennifer over at My Morning Chocolate. After visiting her blog for the first time I quickly fell for her writing style and sweet tooth musings. I have a feeling you'll do the same.
When Jennifer and I agreed to trade posts I thought it was only logical to ask her to write about chocolate. I mean, it is in the name of her blog, and I friggin' love chocolate. I just don't eat enough of it.
But anyway. Enough about me. Let's talk about chocolate.
*****
Do you remember your first chocolate sauce?
My answer:  the creamy chocolate on top of McDonald's vanilla ice cream.  This was my first and favorite childhood treat.
Now here's a harder one:  what was your first type of chocolate sauce?
Because I can look at the McDonald's menu, I know that they serve hot fudge sauce.  But this is different from chocolate sauce, and from chocolate syrup for that matter.  It seems that categorizing your chocolate sauce may be harder than actually making it.
So let's start with the hard part – the definitions.
The Joy of Cooking says chocolate sauce is like ganache, which is simply chocolate and cream cooked together.  "If the word 'ganache' intimidates you, you are not alone," writes Mark Bittman in his column, "The Minimalist."  "Maybe if the stuff were called 'basic, simple, and entirely superior chocolate sauce,' more people would make it."  Others seem to agree with the "superior" adjective – in my research, this was by far the preferred chocolate sauce.
Hot fudge sauce, on the other hand, is sugar syrup with chocolate added to it, as well as butter, corn syrup, and sometimes cream.  Food writer Nancy Baggett describes it as "a fudge that never sets."  The first hot fudge sundae does not, in fact, date back to Mickey D's.  Instead, it was served at CC Browns restaurant in 1906 Los Angeles.
Then, there's chocolate syrup, which holds the distinction of being the only chocolate sauce mentioned in my food Bible, The Food Lover's Companion.  Many of us grew up on Hershey's syrup, the sweet, thin sauce that was manufactured for home use in 1928. Alton Brown's version is made with cocoa powder, sugar, corn syrup, and water.
Now that the definitions are covered, I'm going to add to the confusion:  I didn't make any of these sauces.  I made chocolate topping.
Chocolate Topping (from Baltimore magazine)
Created by Aja Cage of Baltimore's Salt Tavern, this chocolate topping is a mixture of butter, cocoa powder, sugar, and coffee.  Cage actually stirs the mixture into a vanilla ice cream base to make a delicious chocolate ice cream, then uses the leftovers as a sauce.
What I love about this sauce is that it offers endless opportunities for variations.  I've included a few of my experimental – and quite tasty, I think – versions after the recipe.
2 tablespoons unsalted butter
½ cup coffee
½ cup brown sugar
½ cup unsweetened cocoa
1/8 teaspoon salt
½ teaspoon vanilla extract
Combine ingredients in a double boiler and stir over heat until smooth – and sugar dissolves and ingredients are incorporated.
Note:  When this sauce is hot, it has a thin consistency.  Then, if you decide to refrigerate it, it thickens to the consistency of hot fudge sauce.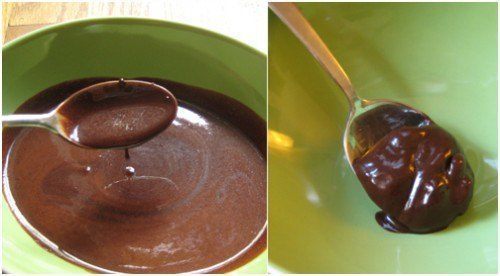 Variations
Mexican Chocolate and Cherry Topping:  Recently, I tried a delicious Chocolove Chilies & Cherries in Dark Chocolate bar.  So I tried to recreate the flavors in this chocolate topping.  I added 2 teaspoons cinnamon and ½ teaspoon cayenne powder to make Cage's Mexican chocolate sauce, then stirred in a handful of dried cherries.  To reduce the chewy texture of the cherries, try soaking them in water first to rehydrate them.
Mounds Chocolate Topping:  I had leftover coconut milk in my fridge, so I added ¼ cup to my chocolate topping and voila!  Chocolate coconut sauce.  You could also add a handful of unsweetened coconut for some texture.  Or, if you're eating the sauce over ice cream, top with toasted coconut for more coconut flavor.  (Note:  the coconut milk thins the sauce.)
Any Flavor Chocolate Topping:  Want strawberry chocolate sauce?  How about chocolate sauce with anise?  From almond and lemon to blackberry cola and Bavarian cream, there seems to be an extract for almost all imaginable flavors. Take a look at this extract list and let your creativity go wild.
Now, what was your first chocolate sauce?
About Jennifer Walker: She's always thinking about chocolate.  She turned her obsession into her inspiration and now writes about everything edible on her blog My Morning Chocolate.